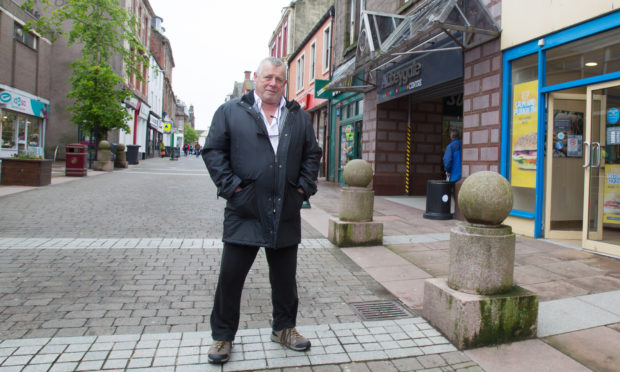 A businessman has described areas of an Angus town centre as "looking like parts of Chernobyl" – prompting accusations of "inflammatory language" by one councillor.
Bill Adam, proprietor of Harbour Nights guest house in Arbroath, slammed the condition of the town, describing it as "disgustingly filthy" and "embarrassing."
He said: "Most of the shops are actually occupied, often by national companies, and a combination of these firms and the council doing their bit would go a long way.
"We can revitalise the High Street –  there is hope to bring it back, but people talk it down.
"For example the bollards that were installed along the High Street are filthy and ingrained with dirt, and there seems to be an element of neglect and apathy, taking a walk along it depressed me."
Mr Adam said that his comments had secured support online.
Arbroath East and Lunan Conservative Councillor Derek Wann said the point Mr Adam was trying to make was being lost in "unnecessarily inflammatory language".
Mr Wann said: "It is a shame Mr Adam says people talk Arbroath High Street down, and then does precisely that.
"It is fine for people to get on a soap box and pontificate, but I've been to a number of meetings, for example of the business association, to discuss what can be done but I haven't seen Mr Adam at any of them.
"In reality, too often it is a core number of people that are volunteering and doing all the work, while others sit at their keyboard and complain."
Mr Wann pointed out Angus will receive £1.08 million from the Scottish Government's Town Centre Fund, with Arbroath earmarked to receive a share of the cash.
However, one local business owner has already organised a clean-up and is inviting people, including local councillors, to join in.
Fiona Laing of Heather Cottage Crafts in the town said: "I think Bill Adam is generally right, but I think it could have been worded better.
"On June 5 and 6, we are inviting people to take part in a 'spring clean', which will include weeding, litter picking and maybe even a lick of paint.
"The event starts at 4pm and we are happy to provide bin bags and gloves, but if anyone has weed removers, buckets or other cleaning equipment, please bring them.
"We have a big celebration in 2020 in the town, but authorities at all levels are dragging their heels over this.
"If the council don't take action, they are shooting Angus in the foot."