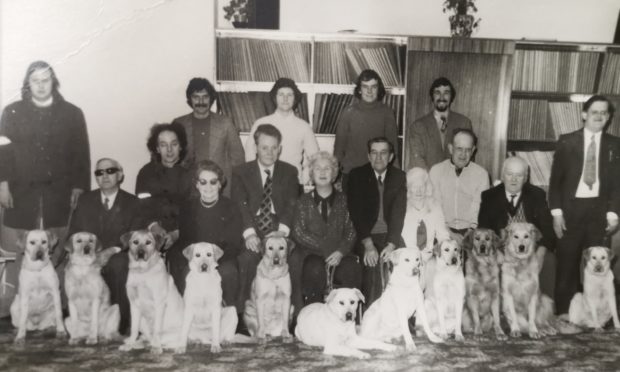 Guide dog volunteer Pam Grant never got the chance to meet her great grandad Arthur or his dog Punch.
But she got a "lovely surprise" when an old photo revealed Arthur had been one of the first blind people in Forfar to receive one of the specially-trained dogs.
Pam, who looks after guide dogs while they are being trained, said her dad found the photo in her gran's house during a clear out, showing Arthur with the first dog trainers, owners and dogs in the the town.
She said: "It was a pleasant surprise to find out. I knew he had been registered blind, but he was from the Glasgow area, so I didn't know he was one of the first in Forfar to receive a dog.
"I took the photo down to the centre and there was someone who knew all the trainers and the owners lined up in the photograph.
"It's a lovely feeling how things come full circle. His first dog was called Punch, and he then later went on to work with a second guide dog Kirsty."
Pam said the photo had strengthened her own connection with the charity Guide Dogs Scotland.
She looks after the dogs during evenings and weekends while they complete their training at the Forfar Regional Centre.
She said: "I had recently lost a dog and couldn't commit to getting another due to my long working hours, so this volunteering role sounded like a dream. It had the benefits of having a dog companion without the guilt of leaving it at home all day."
She is currently looking after a red Labrador/ retriever cross called Innes.
"He has the biggest puppy dogs eyes I've ever seen," she added.
"Volunteering for Guide Dogs has been one of the best things I have done. I have made friends, spent lots of time with dogs and feel part of a community of people who really care for these animals."
A spokesperson for the charity said they were looking for more local volunteers to look after dogs during their training.
She said:  "Our Forfar Centre is seeking volunteers like Pam, who could take a trainee guide dog into their home in evenings and weekends, dropping it off at the centre between 8-9am on weekdays, and collecting it around 5pm."
The team is hosting an information session for those interested in becoming a boarder on June 8, 11am – 1pm at Guide Dogs Scotland's Forfar Training School,  Orchardbank Business Park.
More information is available at www.guidedogs.org.uk/volunteer