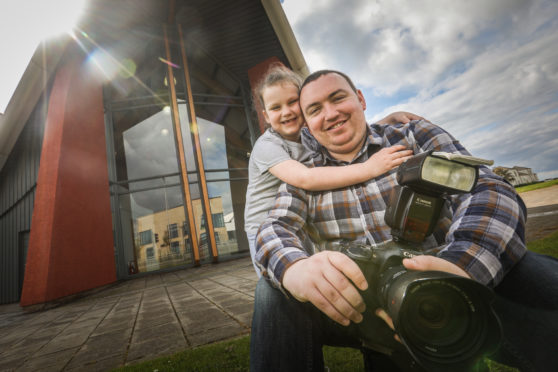 A new photography studio will breathe life into the former Arbroath harbour visitor centre.
The 1,000 sq ft VisitScotland centre at the harbour closed permanently in December 2017 and will now be taken over by award-winning photographer David McIntosh.
Mr McIntosh, 30, who runs the studio in Keptie Street with partner Hayley Farquhar, 26, said their six-year-old daughter has given them the motivation "to do so much more and offer an even better service to our clients".
The move will take place in early July and Mr McIntosh said they were "over the moon" and "can't wait to breathe some new life into the harbour visitor centre",
He said: "Our studio started in 2013 and over the past six years has been going from strength to strength becoming one of the top family and newborn photography studios in Scotland.
"David McIntosh Studios is a family run business with Hayley and myself.
"Our six-year old daughter is always keen to help out too and is the drive that has pushed us to become the business we are today.
"From our small start we have grown considerably and now photograph over 3,000 people a year between around 400 studio sessions and a large number of schools, nurseries and playgroups.
"In the studio we specialise in newborn portraiture and have become the only studio in the UK to hold full APNPI and AANPS newborn safety certifications along with winning awards for the quality of work that we have continuously created over the past six years.
"I believe that this has been a key factor in why we regularly have families travelling to our Arbroath studio from as far as 75 to 80 miles away.
"We are over the moon about our upcoming studio move into such a beautiful and prominent property by the harbour and can't wait to breathe new life into a space that has been empty for a few years in such a key location in the town."
Since opening the couple have put fundraising, community and charity work at the centre of what they do, raising on average around £3,000 per year for local causes.
Most recently David McIntosh Studios raised £447 from its superhero mini sessions with Tay FM for Cash For Kids.
Mr McIntosh said they were excited to see how much more they can raise over the next few years with everything the new studio space has to offer.
VisitScotland blamed "changes in the way people access information" for the centre closure but said it was not the end of the group's service in the county
With 2020 being the 700th anniversary of the Declaration of Arbroath, the closure prompted Arbroath Independent councillor David Fairweather to question the timing of the decision.