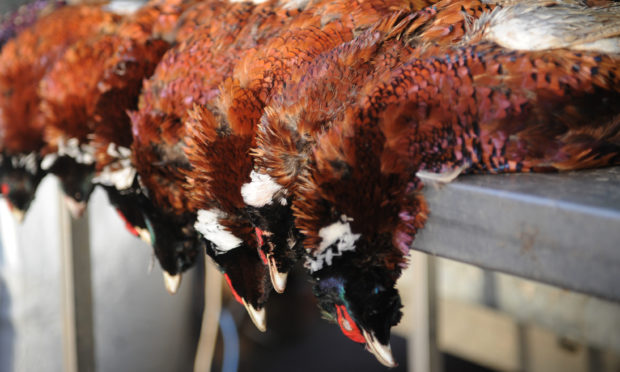 A bitter row has broken out near the quiet village of Oathlaw over unauthorised game bird rearing pens.
Councillors cut business owner Amos McMullan a deal in April when he said an enforcement notice – telling him to take down the temporary wooden structures for which he did not have planning permission – would be "catastrophic" to his business.
They gave him to the end of the breeding season in September to remove the facility for 50,000 pheasant chicks and 5,000 ducklings at Foresters Croft after he argued he had not been aware planning permission was required.
Senior planning officials have now said Mr McMullan has not honoured his side of the bargain, failing to tackle a number of issues allegedly created by his enterprise.
The officials have drawn-up a list of 16 complaints made by neighbours, including claims the pens are "unsightly", "attract vermin," create "significant odour" and could lead to local pets accidentally swallowing poison.
Chief planner Kate Cowey said: "Unfortunately the applicant has not proceeded to date in the spirit of the agreement put in place.
"The applicant has, and continues to, act in a manner that seeks to protect his interests without any regard for the interests of those affected by his actions," she added.
Her comments are contained in the council's official response to Mr McMullan's appeal to the enforcement order served upon him.
This gave him until June 16 to take down the pens, with councillors agreeing to the September extension if the owner of Angus Game Plus took action over noise, odour and vermin control.
Mr McMullan has robustly defended his "family-run business", saying an "anti-field sports" neighbour had objected to the pens.
He said the "unsubstantiated complaints could put our business in jeopardy and leave several young families unemployed."
He said: "We bought the site back in 2016, and since owning the property we have reared game over there for the past two seasons with no concerns or complaints.
"The situation has only came to light this year due to a certain neighbour who is completely anti field sports and well known for his beliefs in the community."
He denied the claims he had failed to comply with the terms of his earlier agreement with planning officials
"The council asked for me to leave a distance between the sheds and certain houses, which I have complied with and rearranged the field setup. We have also forwarded our environmental protection plan in support of information the council required."
He said his business had reared game birds in Angus for more than 15 years with the same temporary wooden shed set-up, built near Oathlaw.
"We have never had any complaints or problems.  We will do our utmost to comply with all of Angus Council's concerns to rectify the problem and continue our business," he added.