An Angus man has revealed details of his late father's D-Day heroics to mark the 75th anniversary of the invasion.
Royal Marine Robert Purdom was coxswain of arguably the smallest craft to cross the unforgiving English channel for Operation Neptune, the invasion of Normandy.
A German fighter aircraft attacked the HQ ship for the Gold beach assault a little more than 24 hours after Mr Purdom's crew set up a non-stop service of landing troops and supplies on to the hostile beaches.
Shards of red-hot metal ricocheted off the HQ ship and created havoc among the landing craft.
Mr Purdom was wounded in the attack and lost an eye.
The driver and deckhand of the three-man crew were both killed in the enemy attack.
Mr Purdom, who was born in Dalmuir but lived in Dundee from 1960, was finally discharged from the Royal Marines following the injury.
He was 17 when he was drafted up and 21 at the time of D-Day.
He was awarded the 1939-45 Star, the France and Germany Star, the Defence Medal and the War Medal 1939-45.
Mr Purdom did not really speak about his wartime heroics during his life.
Mr Purdom, who had four grandchildren, died in 2009 – exactly 65 years to the day that he was injured in France.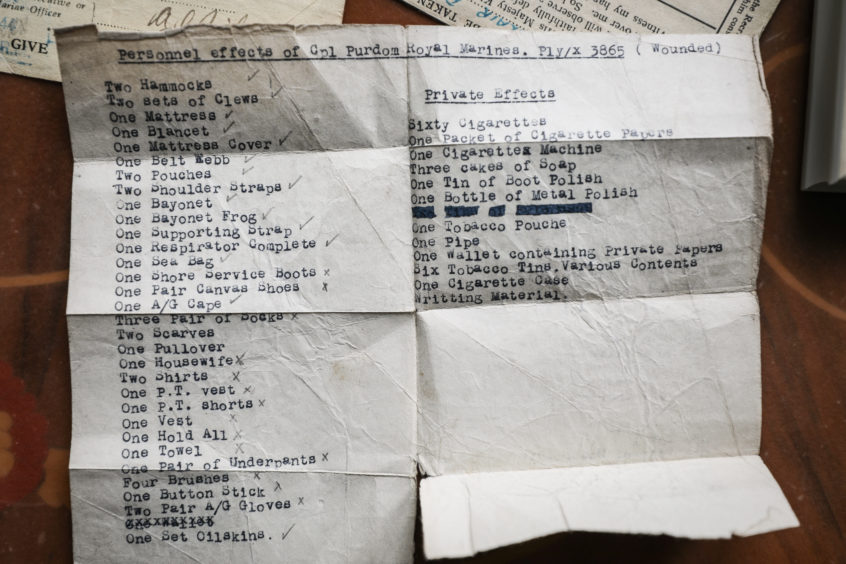 When his son went through his belongings after his death, he found an account of what happened at Normandy written by his father's long-term comrade.
Roy Purdom, 74, from Carnoustie, said he decided to share his father's story for the first time to mark today's anniversary.
Emotional tributes to fallen heroes at services to mark D-Day anniversary
"He didn't say very much about the war," he said.
"He was always concerned about the fact he survived whilst his two crew-mates were killed. I think that stayed with him throughout his life.
William pays tribute to 'ultimate sacrifice' of D-Day fallen at memorial service
"He was from a generation that didn't shout about what they did during the war.
"He lost an eye but he never let it get in his way and went on to enjoy a full working life in Dundee before he retired to Jedburgh.
"The family are extremely proud of him and all that he did at Normandy."
The manuscript discovered by the family was compiled by Ray Knapp, who was an ex-Royal Marines coxswain and friend of Mr Purdom.
Before his death, Mr Purdom said he was grateful to Ray for his many hours researching and compiling the documents "which are now confined to history of a momentous occasion in the best traditions of the Royal Navy".
Mr Knapp's report said that Gold beach was "complete and utter chaos" and said "only the onset of darkness" finally brought an end to D-Day.