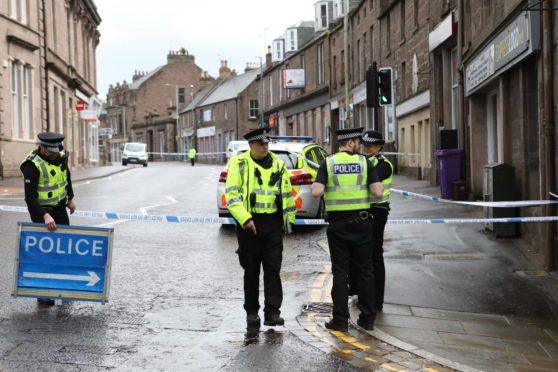 A 23-year-old man has been arrested following the "suspicious death" of a woman in a property in Angus.
Brechin town centre was cordoned off early Sunday morning, with a heavy police presence in and around the Swan Street and High Street areas.
Local residents and civic leaders spoke of their "shock and sadness" as the news quickly filtered through the town.
Shortly after 10am Police Scotland confirmed they were dealing with the death of the "unidentified woman" at a property in Swan Street.
Her body was found in the early hours of the morning.
A spokesman said: "The incident is being treated as suspicious and a 23-year-old man has been arrested.
"There is no wider risk to the public identified.
"It is anticipated there will be some disruption to the area whilst investigations take place."
By 11.30am the woman was named locally as Neomi Smith.
One woman, who was visibly upset, laid two floral tributes to the young woman  near the scene.
One to 'Auntie Neomi' said: "We will miss you millions and millions. We are sad we won't see you again – love you forever."
Another said: "You will be missed so much, you didn't deserve this.
"Such a lovely, caring girl. I'll never forget you."
Jill Scott, chairman of the town's community council, described the death as "absolutely tragic."
She said: "I would like to extend my personal condolences.
"As chair of the City of Brechin and District Community Council I pass on the condolences of our community.
"Brechin is a very close knit and supportive community.
"I'm certain support will be offered where needed."
Angus councillor Bob Myles, Independent councillor for Brechin and Ezdell, was saddened to hear the news.
He said: "It's unbelievable, such a tragic event.
"This has ruined the life of a young girl, and the life of the person who did it.
"I send my sympathy to all the people who are left."
Residents near the scene spoke of their "shock and sadness" as part of the town centre was cordoned off to allow a full police investigation to be carried out.
The road between City Road and the High Street was blocked, with traffic diversions put in place.
Uniformed officers stood guard at a lane leading off the High Street to the rear of premises.
Shop owner Anna Sniadach, 36, whose business Little Poland sits next to the lane, said she was "shocked" to find the police outside her premises when she arrived.
She said: "I have not heard anything but I know a lot of the people who live around here."
Another business owner, who did not wish to be named, said his customers had all been talking about the incident.
He said: "It has been the talk of the town this morning.
"I can't speculate about what has happened. I am just very sorry, very sad."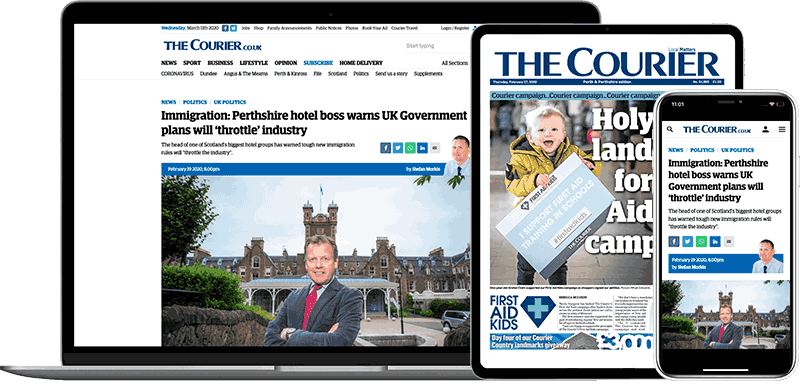 Help support quality local journalism … become a digital subscriber to The Courier
For as little as £5.99 a month you can access all of our content, including Premium articles.
Subscribe