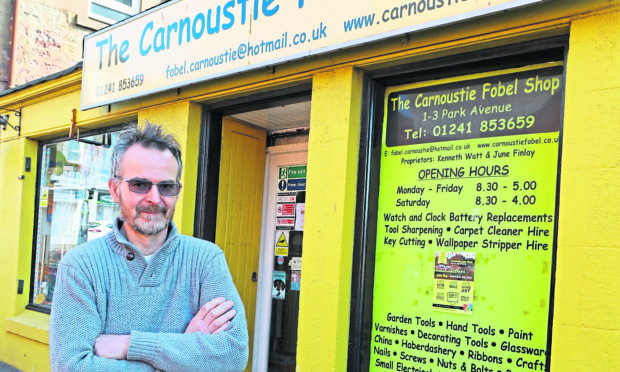 A Tayside business owner is considering "packing up" after a brazen thief stole a week's takings from his premises.
The Carnoustie Fobel Shop was targeted on Tuesday around 11am when a man distracted staff before walking off with a four-figure sum of cash which was waiting to be banked.
Co-owner Kenny Watt said the man asked his partner June Finlay for other items, which meant she had to go to the back of the store to look for them.
She went out to look for more stock and the culprit walked to the back of the shop and took the cash before leaving.
Ms Finlay's son uploaded footage of the alleged thief on social media and the image has now been shared more than 2,000 times.
Angus shop owner considering 'packing up' after thief makes off with week's takings
Mr Watt said: "It's hard enough running a small business in Carnoustie these days.
"Takings are already down as a result of the parking charges which has reduced footfall.
"This is the last thing we need. I'm now considering packing up.
"What's the point in making the effort to keep a local shop open to be robbed blind? We are absolutely devastated by what's happened."
Mr Watt said it all happened in a matter of seconds,although he wasn't in the DIY shop at the time.
Ms Finlay said the man was "very pleasant" man but she did not think he was local.
Mr Watt said: "My partner and her sister were in the shop at the time.
"He asked for a product and said he was looking for more of that product than there was on the shelf.
"June went out to look and he came to the back of the shop and picked up the cash.
"He walked out with that day's banking and walked in the direction of Queen Street. He started to walk incredibly fast as he left the shop."
Mr Watt said the staff quickly viewed the CCTV after the incident and called the police.
Police Scotland visited the shop and reviewed the CCTV footage.
A spokesman for the force confirmed officers are investigating the matter. He declined to make any further comment.