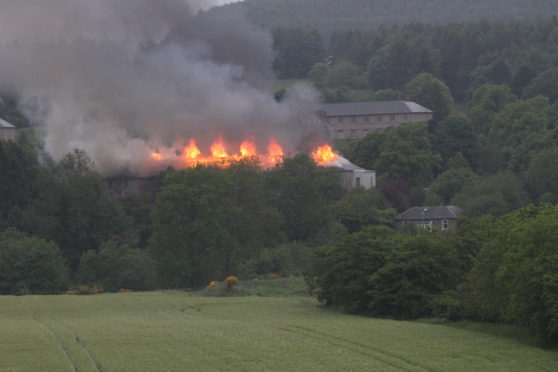 A young person is likely to die in the ruinous grounds of the former Strathmartine Hospital if break-ins and arson attacks continue, experts have been told.
A multi-agency taskforce, including police, firefighters and building standards, visited the 18-hectare site on Tuesday to review the action plan for reducing incidents.
Days before schools in Angus and Dundee break for the summer, the group heard neighbours fear a child is likely to die after gaining access to the "hazardous" buildings.
In 2002, a schoolboy was fatally injured nearby in the now-demolished Baldovan House mansion.
Scottish Fire and Rescue Service group manager Roy Dunsire is leading a review after 40 firefighters fought to contain a serious blaze on June 7.
Speaking as colleagues surveyed the ruinous condition of the buildings and surrounding grounds, he said: "There was an incident where a boy lost his life nearby. We don't want history to repeat itself and we will do all that we can to stop that from happening."
Douglas Hume, chair of Strathmartine Community Council, called for action. He said: "It's looking more and more like the site is going to have to be demolished.
"The fire service are very good, but the worry is what happened at Baldovan is going to happen here," he added.
Authorities have used increased police patrols, CCTV, and talks in schools in an attempt to control the problem, but with little success.
Newly published figures for the 2018/19 financial year show there were 120 deliberately-set secondary fires in Angus, five more than last year, pushing firefighters 40% past their local target of 85 incidents.
The fires were most common in the Monifieth and Sidlaw Ward and more specifically in the former Strathmartine site and surrounding areas, creating a huge drain on resources.
The Scottish Government granted planning permission for 198 new homes, 24 flats and community centre in 2018 after reviewing a 2015 Angus Council decision to push ahead with the plans.
Developer Heathfield Limited has around four years before planning permission expires, with Angus planning boss Kate Cowey already having warned councillors there has been little recent dialogue with the company on the project's future.
The main administration and ward blocks are category B listed buildings, meaning they are of special architectural or historic interest, and are due to be redeveloped into flats.
The developer, who did not respond to a request for comment before deadline, pays for a security guard to patrol the area.
Local police inspector Gary Aitken, said: "As you can see it is a hazardous site as all abandoned buildings are.
"We have concerns for everyone that gains access, especially young people, and we have increased patrols to prevent that from happening."