The former provost of Angus has warned that the horrors of Chernobyl must never be forgotten.
Ruth Leslie Melville, 78, from Brechin was involved with the charity Bel-Aid which was established in Angus immediately after the disaster.
One positive to come out of the tragedy was her son Robin married a Belarussian woman, Olga, whom he met through one of the trips and they now have children Nicholas, 16, and Jamie, 13.
She hopes the impact of the recent hit television series will raise awareness among a new generation of the biggest accident of its kind in history.
When one of the four reactors at the Chernobyl nuclear power plant in Ukraine exploded on April 26 1986, radiation sickness caused by the disaster killed 31 people in the first few months and contaminated millions more.
Ruth said one of the worst countries affected was neighbouring Belarus, where, 85% of the radioactive fallout from the meltdown blew across their country.
"The Belarussian people have a deep love of their country and were working all the time with tremendous fear and a lack of knowledge," she said.
"The suffering they were going through at that time was beyond belief because they lived in a constant sense of fear.
"Radiation is something you can't see – it's lurking in every corner of your life and your country."
Ruth will forever have a direct link to Chernobyl following her son's marriage.
"I couldn't have been luckier and Robin and Olga are the best of friends and I have two gorgeous grandchildren," she said.
"We are very close to Olga's family who still live in Belarus and I have a lasting image in my mind of Olga's father playing the accordion while the two of them sang folk music of Belarus."
Bel-Aid initially helped bring small groups of children from the affected areas of Belarus to Scotland for a holiday.
However, with the political regime in Belarus making it increasingly difficult to target the children most in need, the charity folded several years ago.
Ruth, who visited Belarus numerous times, said it would be "totally wrong" for Chernobyl to be forgotten and believes the mini-series will impact the next generation.
She said the main consequence continues to be thyroid cancers in generations of children who were not even born when disaster struck.
Sadly, 40,000 fatal Chernobyl-linked cancers are predicted over the next 50 years.
"I don't think anyone who learns about the tragedy and gets to know the Belarus people would not be haunted by what's happened," she said.
"The legacy of Chernobyl will last 50 years and we must continue to shine a light on what happened."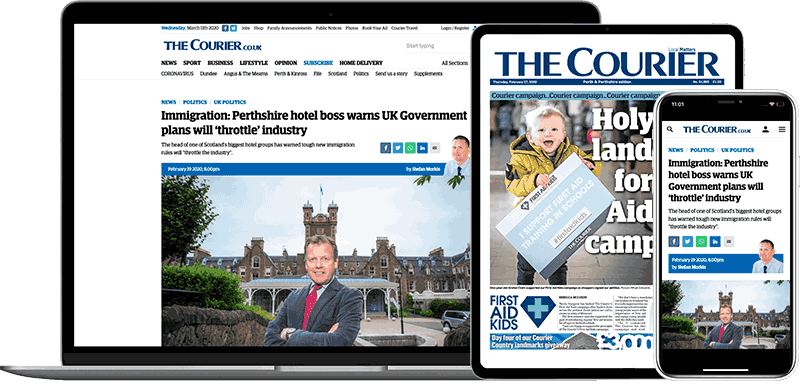 Help support quality local journalism … become a digital subscriber to The Courier
For as little as £5.99 a month you can access all of our content, including Premium articles.
Subscribe