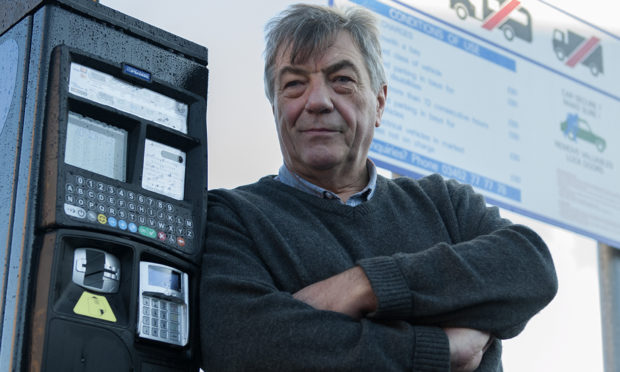 Cuts to bus services between Kirriemuir and Forfar are "another nail in the coffin" for the rural Angus town, local businesses have warned.
The 124 direct service between the two towns was withdrawn on Monday with Angus Council citing poor performance.
The service ran once a day Monday to Saturday. The service 20 continues to link both Angus towns.
Barrie Ewart, chairman of the Kirriemuir and Local Business Association, said the withdrawal of the service was another piece of bad news during what has been a challenging year for local businesses.
He said: "The loss of the bus service is another nail in the coffin of the town.
"There will be people who rely on the bus service to get back and forward.
"It's also important to remember there are no banking services in Kirriemuir – people have to go to Forfar as I do myself twice a week – and this could make it more difficult for those people."
He said the group would be monitoring the effect of the change as it bedded in.
"We have had so many things over the last year and this is just another one. Only a year ago we came runner up in the Great British High Street competition, but since then at least four businesses have shut down, and footfall has reduced because of the parking charges," he added.
He said these changes were having a cumulative effect, contributing to the closure of businesses including Random Recycle, café Granny Annie Mays, Oakfield Flowers and gift shop Elemental.
He said: "Maybe if the parking charges hadn't come in, and the town remained vibrant, then there would have been more footfall and people using the bus, so they wouldn't have had cause to cut the service."
An Angus council spokesperson said: "The service 124 has been withdrawn due to poor performance. The 125 service will operate Forfar to Glamis at similar times instead.
"Services 22 and 22D will continue to operate between Glamis and Kirriemuir. At other times passengers between Glamis and Kirriemuir should travel via Forfar."
The cuts were announced as part of a package of changes to Angus bus services, coming into force on Monday, July 1.
A new service – the 114 – is being introduced on a trial basis to serve Restenneth Fields and Gowanbank in Forfar.
There have been minor changes to the 117 and 125 services.