Hundreds of people lined the streets of an Angus town as locals welcomed their new Earl and Countess on Monday.
Prince Edward and wife Sophie arrived in Forfar in the afternoon and were greeted by a huge crowd of locals on Castle Street.
The town centre was bustling as the new Earl and Countess of Forfar spoke with residents, business-people and community figureheads for the special visit.
Prince Edward was granted the ancient title of the Earl of Forfar as a 55th birthday present from the Queen in March. The news was met with a mixed reaction at the time.
However true Angus hospitality was on show on Monday with the Royal couple even sampling a Forfar bridie on the trip.
The Queen's youngest son also visited the town's Municipal Building, St John's Episcopal Church, Forfar Dramatic Society, Strathmore Rugby Club and Guide Dogs for the Blind.
A tartan was specially-made for the Earl and Countess with a fiddle tune composed in their honour.
Abby McLean and Jack Laird of the Delma Wilson School of Dance were among those to show off their Highland dancing talents for the Royals in the town centre – and even spoke to the Prince afterwards.
Royal visit: Crowds welcome new Earl and Countess to Forfar on inaugural visit
Prince Edward gets stuck into Forfar bridie as town welcomes its new earl
Jack, 14, said: "It meant a lot. A lot of hard work went into what we were doing. He (Prince Edward) was also saying of how he was very proud of how it was all put together."
Sharon MacPherson of Treasured Gifts added: "It was a great atmosphere. Everybody was out. Everybody was happy."
Danielle Stephen said: "It is definitely a good thing for Forfar. This is the busiest I've seen it."
For more on Forfar's Royal visit, read Tuesday's Courier.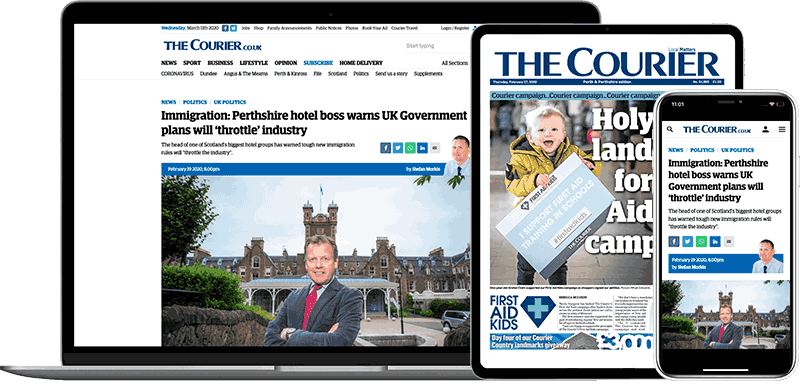 Help support quality local journalism … become a digital subscriber to The Courier
For as little as £5.99 a month you can access all of our content, including Premium articles.
Subscribe