The historic visit of the new Earl and Countess of Forfar has taken a well-known local musician closer to his own Royal flush after penning a special composition for the VIP visitors.
Forfar bridies, a new tartan and an enthusiastic local welcome were served up for the return of an eponymous Earl to the Angus town for the first time in more than three centuries, after The Queen conferred the ancient title on the Earl of Wessex for his 55th birthday earlier this year.
At a civic lunch in the burgh's historic Canmore Room, delighted Edward and his wife, Sophie were also treated to the first performance of Sandy Ingram's tune, An Angus Welcome to the Earl and Countess of Forfar –  the accomplished fiddler's latest composition for members of the Royal family over the past 15 years.
Joined by fellow musicians Steven Carcary, Malcolm Ross, Gordon Penman and Lindsay Downie, 88-year-old Sandy, from Glamis, led the performance of the traditional type melody – a slow march leading into a quick march – before being joined by his 11-year-old grandson, Alexander Lindley to present a framed manuscript of the new tune to the couple.
OBE Sandy, 88, a former procurator fiscal at Forfar, can also proud claim to his own music hanging on the walls a trio of other Royal households, those of The Queen, The Duke of Rothesay and the Duchess of Gloucester.
A stalwart member of the Angus Strathspey and Reel Society, Sandy said: "One of my earliest wins in a national composition competition was in the early 1980s with a tune called Glamis Castle and it has really gone on from there.
"Since then I have been fortunate enough to be invited to play at many important events in Angus, both in public and at many private functions involving the Strathmore family for whom I have also written a number of tunes."
He composed a piece in honour of the Queen Mother's 100th birthday, adding: "In 2004, I then wrote The Queen's Visit to Forfar which was presented to Her Majesty in the Reid Hall."
Prince Edward gets stuck into Forfar bridie as town welcomes its new earl
It was followed up by the handover to the Duke and Duchess of Rothesay of the score for The Memorial Gates of Glamis, a pipe march created in 2008 for the unveiling of the spectacular new main entrance to the Queen Mother's childhood home of Glamis Castle.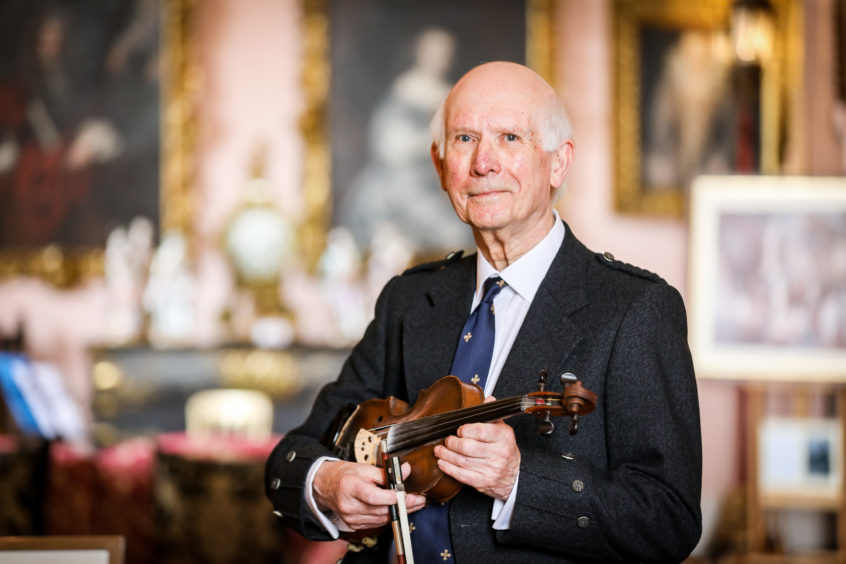 In 2012, Sandy wrote the Glamis Gathering, gifted to the Duchess of Gloucester as the Royal representative at a castle celebration to mark the 60th year of the Queen's reign which saw more than 20,000 visitors flock there and included massed pipe bands and a display by 500 Highland dancers.
His talents have also raised many thousands of pounds for charities down the years through the sale of other tunes and cds.
VIDEO: 'Honour' to be named Earl of Forfar says Prince Edward as town welcomes him with bridies, tartan and fiddles
Sandy said: "It was a great honour to play this latest tune for the Earl and Countess of Forfar, who seemed to enjoy it, and I was delighted my grandson Alexander was there to present it to them."