VIDEO: Barefoot runner Anna McNuff to arrive in Dundee today on 2,620-mile British challenge
Barefoot runner Anna McNuff pounded the Angus coastline with her "panther paws" to show girls "their gender is not a barrier for adventure".
The Girl Guiding ambassador is covering 2,620 miles – the distance of 100 marathons – in the hope of showing youngsters that no challenge is beyond their reach.
She began her five-month Barefoot Britain challenge in the Shetland Islands in June and is running throughout Scotland, Northern Ireland and the Channel Islands, before finishing in London in November.
Anna spoke to local girl guiding groups on Tuesday before taking on the latest leg from St Cyrus to Montrose on Wednesday.
Last night, members from across Angus met adventurer and Girlguiding ambassador @AnnaMcNuff as she ran into Angus as part of her barefoot run through the UK! We heard stories of Betty, scorpions and what led Anna to take in this latest adventure. A fantastic evening indeed! pic.twitter.com/hvuJ8KzFCZ

— Girlguiding Angus (@GirlguidingAng) July 10, 2019
She said: "My feet are alright – they are kind of getting a bit like panther paws; really soft but getting thicker and thicker.
"They got a lot of extra skin on them in the first three weeks and they have now reached a plateau.
"It's a mental thing – it's as much my mind getting used to it as my feet.
"I'm from landlocked London so the Angus and Mearns coastline also helped me go the extra mile – it's absolutely stunning."
Anna was joined by Montrose marathon runner Stuart Walker whose wife is involved with girl guiding in the area.
"Stuart told me stories all the way down and he provided a real distraction," she said.
"I listened to him and the miles just flew by whereas there are some days when a mile feels like hours.
Stuart has run 22 marathons. But that's not his greatest achievement…

Today he told me stories for 23 miles STRAIGHT! Featuring:

Billy Connolly
Paula Radcliffe
Sonia O'Sullivan
Victorian ghosts
Catching a burglar

& how he always eats a Yorkie before a race #BarefootBritain pic.twitter.com/tsaq5ifnYs

— Anna McNuff (@AnnaMcNuff) July 10, 2019
"Speaking to the girl guides on Tuesday night really spurred me on.
"I'm saying to these girls that they have got to push themselves – I know I can do this in trainers but it is the challenge of doing it in bare feet.
"I live it and the message I was giving the girls was you think you know what you are capable of then you take on something you think is way over your head but you end up doing it.
"Don't hold back – go for it."
Anna was also met on Monday by 1st Newtonhill and Muchalls Brownies and the 2nd Stonehaven guides at Muchalls Village Hall.
Today at 12pm she will leave from Arbroath for Dundee on the next leg of her journey.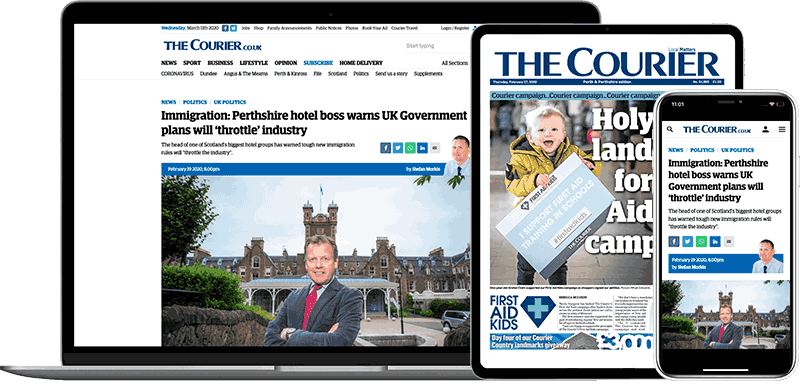 Help support quality local journalism … become a digital subscriber to The Courier
For as little as £5.99 a month you can access all of our content, including Premium articles.
Subscribe