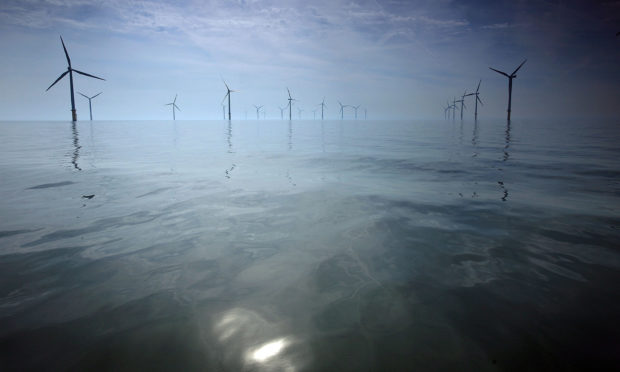 Angus Council has signalled its official opposition to a compulsory purchase bid for part of Carnoustie's world famous links to route an underground power cable from a multi-billion pound offshore windfarm.
Just days ahead of the deadline for an official objection to the Seagreen compulsory purchase order (CPO) bid, councillors have given officials authority to fight the potential land grab at the Open Championship venue.
If it remains unresolved, the application could become the subject of a public inquiry.
Seagreen, which is wholly owned by electricity giant SSE, won Crown Estate development rights for the Firth of Forth zone and aim to create the Alpha and Bravo windfarms almost 30 kilometres off the Angus coastline.
Its plan involves routing a cable almost 30 kilometres across Angus, from the links, which played host to last summer's record-breaking Open, to a new substation at Tealing.
Policy and resources sub-committee councillors were told: "Seagreen are looking to bring their electricity cable ashore at the southern end of the golf links, lead the cable westwards under the golf holes along the southern boundary, and to the west of the golf course turn northwestwards to take the cable up to and across the public road west of Barry Links station.
"Whilst as a council we recognise the benefits of this endeavour, it is in our interests at this stage to submit an objection in order for officers to fully engage with the detail of the implications now and in the future," a legal official told the committee on Monday.
The CPO area covers the Black Slab car park, foreshore adjacent to it and 28 acres of links land.
Planning permission in principle for a cable from the coast inland has already been approved by the council, but specified matters relating to that remain outstanding.
Its detailed route will come before Angus development standards committee in due course and officials have advised councillors involved in the CPO matter that it would not be appropriate for them to participate in the planning decision.
A report on the status of the CPO is scheduled to go before a full Angus Council meeting in early September.
Carnoustie Golf Links previously indicated its intention to lodge an objection on the basis of insufficient information being provided, and Independent town councillor David Cheape has urged the local community to make its feelings known.
Seagreen has said it remains committed to securing voluntary agreement with landowners along the planned cable route.
The company has revised turbine numbers downwards from 150 to 120, with a maximum height of 280 metres.
First phase potential generation capacity of 1.5GW would be enough to power an estimated 1.2 million homes, with data suggesting a lifetime expenditure of £5.7 billion through the project's 25-year life.
Upwards of 400 jobs could be created across the UK through the Angus scheme, according to the firm.