VIDEO: Montrose pays tribute to wartime hero dog Bamse 75 years after death
Montrose paid tribute to a wartime hero canine on Sunday to mark his passing 75 years ago.
Bamse became famous as a crew member of the Norwegian Navy who would regularly take part in football matches, round up sailors from local pubs at the end of the day and is even credited with stopping bar fights and a knife attack at Dundee docks.
The huge St Bernard dog was owned by Captain Hafto and went to sea with him on the minesweeper Thorodd during the Second World War.
He achieved legendary status in Montrose and Dundee, where the Thorodd was stationed, as tales of his adventures, courage and kindness spread.
Sunday's event started at Montrose Air Station Heritage Centre where dogs and owners gathered before walking together to the Bamse statue at the harbour.
A piper performed at the commemorative ceremony before a wreath was laid following a speech from Dr Andrew Orr.
He said: "Montrose Heritage Trust has nurtured the story and legacy of Bamse for over 15 years.
"We are delighted that Montrose Heritage Trust has stepped in to support us in organising this 75th anniversary memorial dog walk.
"Worldwide interest in the legend of Bamse has never been higher.
"Enquiries from around the world about commemorating the 75th anniversary started arriving almost a year ago.
"It is wonderful that Montrose Air Station Heritage Centre has decided to organize this event, lead by volunteer Sian Brewis.
"As memories about the sacrifices made by the Allies in World War Two begin to fade, it is more important than ever to remember that we owe our freedom to their effort.
"Bamse's extraordinary contribution to the morale of the free Norwegian forces teaches us lessons that we would do well to remember in uncertain times today.
"The Norwegians never forgot about Bamse.
"The people of Montrose never forgot about Bamse."
The party then walked to Bamse's grave where Norwegian and British flags were placed.
Members of the public also placed a painted pebble on his grave and the event also attracted the appearance of St Bernard dogs.
Sian Brewis, an air station volunteer, organised the event to keep the story of Bamse alive.
She said: "I think Bamse's story is an important part of the history of Montrose and Norway and it would have been such a shame if nobody marked the 75th anniversary of his passing.
"There was an event to mark 70 years and I just felt that I wanted to organise this year's event to keep Bamse's flame burning.
"He was such a character around Montrose during the Second World War and was so well loved by the locals.
"It's a story that needs to be told for generations to come."
Bamse became a global mascot for the Royal Norwegian forces but in July 1944 died of heart failure.
Draped with the Royal Norwegian flag and with his sailor's cap perched on it, the dog's coffin was carried through Montrose.
He was buried with full military honours in the sand dunes on the banks of the South Esk estuary and was posthumously awarded the PDSA Gold Medal for gallantry and devotion to duty.
Alan Beattie Herriot's bronze memorial to Bamse has been popular with visitors since it was unveiled in 2006 by Prince Andrew.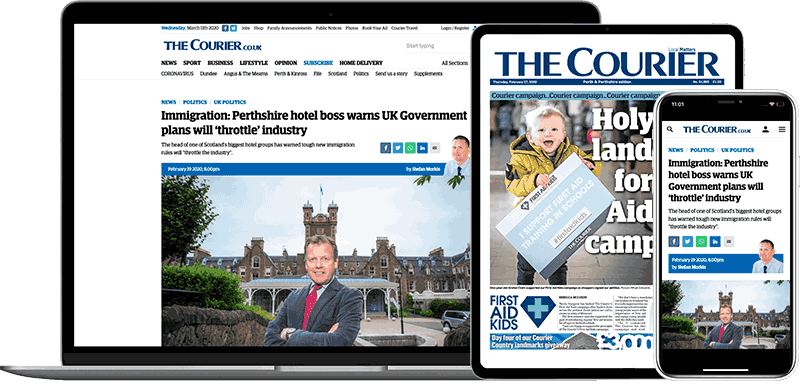 Help support quality local journalism … become a digital subscriber to The Courier
For as little as £5.99 a month you can access all of our content, including Premium articles.
Subscribe