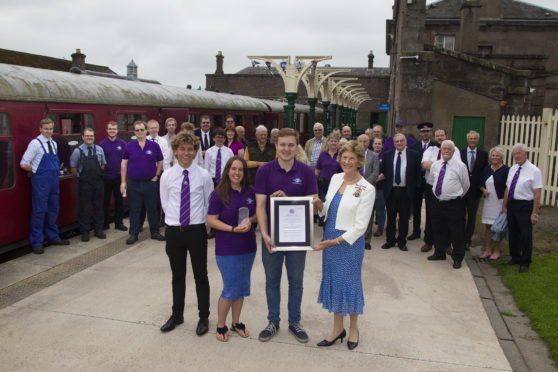 Angus organisations have been urged to follow in the tracks of Brechin's Caledonian Railway after its volunteers received Queen's Award recognition in a weekend celebration.
The county's Lord Lieutenant, Georgiana Osborne, was at the attraction to formally hand over the honour announced in June, adding the group's name to the impressive Angus roll of honour of organisations which have received the volunteering equivalent of the MBE.
The Caledonian Railway Society is celebrating its 40th anniversary this year and following a look around the Brechin station, the Lord Lieutenant hopped aboard one of the carriages pulled by the group's workhorse 1926 Barclay steam engine to enjoy a trip along the branch line to Bridge of Dun.
At Dun she was shown around the station building, which is in the final stages of refurbishment, before making the return journey to Brechin.
Mrs Osborne said: "The Caledonian Railway Society thoroughly deserves the Queen's Award recognition, they are such a hard-working, dedicated group providing so much for the local community.
"I was delighted to be able to go along to Brechin and present them with their award, and it was a real treat to enjoy the trip to Bridge of Dun.
"Since the Queen's Award for Voluntary Service (QAVS) began in 2002 we have been very fortunate to see a number of Angus groups receive the award.
"Nominations for QAVS 2020 close at midnight on September 13 and I hope the success of the Brechin Caledonian Railway Society might inspire others groups to put themselves forward for recognition," the Lord Lieutenant added.
Behind Glamis Castle, the railway is the second most popular tourist attraction in Angus, with around 12,000 visitors travelling on the branch line annually.
The group hopes the QAVS certificate and award now on display will deliver another boost to already busy summer season.
Alongside regular steam days and an upcoming murder mystery event, society volunteers are preparing for the next Thomas the Tank weekend in late August, a regular favourite with visiting families.
Society chairman Simon Pegg said: "We have been on the go for 40 years and this recognition came as a complete surprise.
"Hopefully it will boost interest in what we do and we will be using it to strive further to keep the heritage of Angus alive."
The society also hopes the QAVS recognition will encourage fresh volunteering interest in the running of the railway and restoration of rolling stock.