 A speed limit cut call has been made after a weekend crash caused a four-hour closure of part of the Forfar bypass.
The Saturday afternoon accident led to five people, including two children, being taken to hospital after the collision involving a car and a van at the Lochlands junction.
It happened around 2.30pm and involved a silver Ford Fiesta and a grey Citroen Berlingo van, leading to the closure of the southbound stretch of the bypass from the A94 junction at McDonalds.
A female passenger in the Ford Fiesta was described as the most seriously hurt of the casualties, but the full extent of her injuries has not been released.
Two children in the car escaped serious injury. The road re-opened at 6.20pm and police have appealed for crash witnesses or people on the road at the time to contact them.
The turn-off, which is the southernmost junction on the bypass, has been the scene of a number of serious and fatal accidents.
Despite additional safety measures being put in place there – including a ban on traffic turning northbound from the A932 out of Forfar – Saturday's crash has led one senior councillor to call for a speed limit reduction.
Monifieth and Sidlaws Conservative Craig Fotheringham said: "It is terrible to see another bad accident at this junction and we can only hope that all involved were not seriously hurt and make a full and quick recovery.
"I would also praise all of the emergency services involved in dealing with this crash, but I think now is the time we need to look again at this junction and consider what might be done there."
He added: "I think we need to be realistic and accept that a flyover won't be built there but there is definitely a need to look again at what might be done, and reducing the speed limit would be one simple measure which could potentially save someone's life.
"As a regular user of the junction I am comfortable heading south out of Forfar and joining the dual carriageway, but crossing back over it when you are coming into the town is a different matter.
"It only needs someone to stall their vehicle and it could be catastrophe."
He said: "Average speed cameras have helped, but even at 70 miles per hour traffic comes upon you very quickly and it's easy to be caught out.
"Maybe we should now be looking at a 50 or even 40mph limit on that short stretch at the junction," said Mr Fotheringham.
"It's been done elsewhere at the likes of Laurencekirk, it would slow traffic down and perhaps give the people crossing the southbound carriageway that extra time they need to make it safely across."
A campaign to have the central reservation closed off stalled more than a decade ago after campaigners were told by Transport Scotland money was not available for a grade-separated crossing.
Additional traffic flows along Forfar's Glamis Road and the extra pressure on the West Port traffic lights were also cited as difficulties in closing the A932 crossing to town-bound traffic.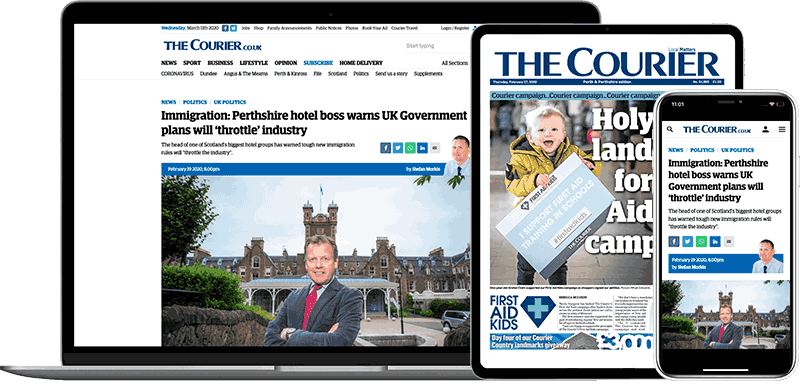 Help support quality local journalism … become a digital subscriber to The Courier
For as little as £5.99 a month you can access all of our content, including Premium articles.
Subscribe