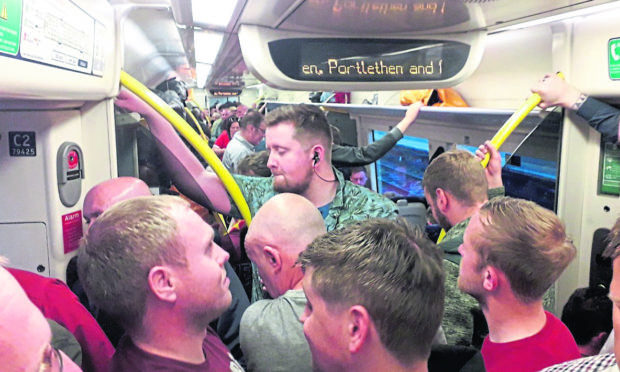 Rail operators have been urged to carry out an urgent review of their booking policy after one of the world's leading emergency planners was confronted with "utter bedlam" on the east coast main line.
Jacqui Semple, who chairs the Emergency Planning Society for the UK, was among hundreds of passengers travelling from Dundee to Edinburgh and back on Sunday.
Mrs Semple, who also manages risk, resilience and safety for Angus Council, said she was horrified by the number of passengers crammed on the LNER Aberdeen to Kings Cross Service which left Dundee station for Edinburgh at 11am on Sunday.
It was a similar story when she travelled north on the 9pm ScotRail service from Edinburgh Waverley to Aberdeen.
Passengers were forced to sit on travel racks, children were sitting in the aisles and the areas between the carriages were crammed.
The southbound train was particularly busy with football supporters travelling to Murrayfield for the friendly between Liverpool and Napoli, and fans returning home after Saturday's Tom Jones concert in the city.
Mrs Semple, 52, said: "It was absolute bedlam. There was nowhere for folk to go, we were like herded cattle.
"ScotRail put on extra carriages and did not let any passengers on at Haymarket where hundreds and hundreds of passengers were waiting.
"There was nowhere for them to go."
As chairwoman of the Emergency Planning Society for the UK, she works with a wide range of professionals and in her role with Angus Council she was in charge of the safety of the 175,000 visitors to the 2018 Open at Carnoustie.
She said: "You expect trains to be busy and to have to perhaps queue and stand. What is not acceptable is a disregard for all aspects of safety or passenger care.
"No other transport operator would be allowed to continue to operate using this model with no safety belts, restriction on numbers and fundamentally no one assessing whether a train is safe to leave a station given the numbers of people on board.
"They need to take action now.
"I regularly use the train for my work to go to Glasgow, York or London but have never seen the train to the point of where I was fearing for the safety of the people on board."
One 79-year-old man making his way home to Auchtermuchty from Wigan was forced to stand from Waverley to Ladybank.
Brian Slattery said the 9pm train from Edinburgh was "completely packed" with no windows that opened and the train stopped at each station for around five minutes just to let some air in.
ScotRail said extra carriages had been in place on several services to and from Edinburgh for the football.
A spokesperson said: "We're sorry that some customers had to stand.
"Extra seats were added to trains for fans travelling to the match yesterday but it's not possible to make every train longer."