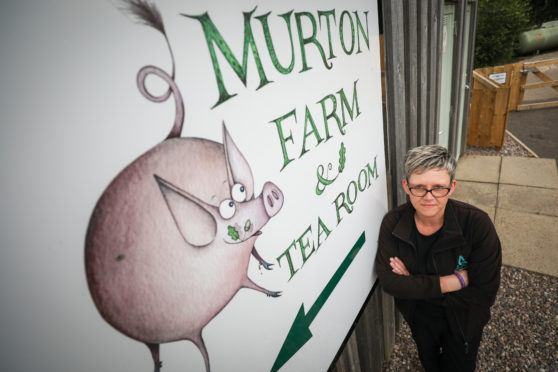 Vandals have struck at the heart of popular Angus nature reserve, smashing their way into a building and leaving a four-figure trail of destruction in their wake.
Staff discovered the damage when they went to open up the Murton Tearoom, on the outskirts of Forfar, last month.
The thugs has wrecked four doors which will now have to be replaced and stole toys and educational packs used by families to explore the local nature and wildlife on the adjoining reserve and farm.
Collection tins for the Murton Trust, which runs the attraction, and the RSPB Tayside and Fife branch were also removed.
Manager Alison Elliot said staff had been left "incredibly frustrated" that someone had targeted their premises but were heartened by the support they have had from customers.
She said: "Unfortunately the break-in took place during the local trade holiday so we have been unable to get a joiner to replace the doors."
The hooligans broke into a disabled toilet attached to the main tearoom building, before making their way inside.
She continued: "They must have spent a considerable amount of time trying to open the door, only to discover it went into a toilet.
"They then broke into the main tea room and stole ice lollies, toys which were on display in our small gift shop and the collecting tins, and helped themselves to juice and cakes.
"They have broken all the locks and the frames of the doors.
"It is going to cost us a few thousand pounds by the time the doors are replaced."
The trust, run as an educational centre, works hard to encourage families to explore the nature reserve next to the tearoom and farm.
Alison continued: "We had rucksacks which were donated by the Forestry Commission which families could hire.
"They stole two of these, and their contents, which included binoculars, a picnic blanket, wildlife guide, bird guide, flower guide and map of the reserve.
"There were also bug boxes and a magnifying glass to encourage families to engage with the nature reserve.
"This is more frustrating for us than anything else.
"We were lucky they didn't leave any graffiti or do much damage to the inside of the tearoom, it's just the thought someone could carry out this damage which will cost us a few thousand pounds to repair.
"We try to be here for the community and organise different events for young people.
Police Scotland was made aware of the vandalism and theft, discovered on July 24, and officers are currently investigating.
Anyone with any information is asked to contact the police on 101.