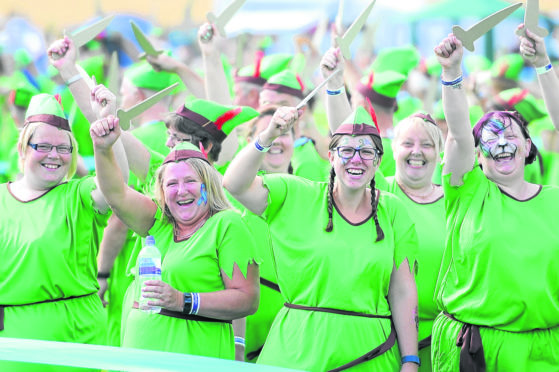 Organisers of the Cancer Research UK Kirriemuir Relay for Life are hopeful their marathon 24-hour fund-raiser will go ahead as scheduled this weekend — but insist the safety of participants, including survivors, is paramount.
Weather permitting, the stage is set for the biennial team event which, since 2007, has raised more than half a million pounds for the world's largest charity dedicated to saving lives through research.
This year there are 35 teams registered, with 449 participants due to begin the 24 hour relay walk at noon on Saturday.
The line-up includes 33 people registered as cancer survivors.
Organisers are keeping their eyes on the forecast and their fingers crossed in the hope Mother Nature will not rain on their parade.
Bad weather has only forced the event to finish early once before, when the walk was reduced from 24 to 12 hours in 2009.
During the 2017 gathering, participants set a world record for the number of people dressed as Peter Pan in one place.
Access to the site may be limited on Friday if the predicted storms hit, but Rhona Guild, secretary and vice-chairman, said the team were working on the premise it would be "all systems go."
She said: "Things would have to be pretty dire for us to pull the plug.
"Obviously we have to consider everyone's safety. If there was thunder and lightning we would review the situation. Health and safety has to be a priority.
"The attitude of the majority of people taking part is people with cancer are going through much worse, what's a spot of rain?"
Heather Kelly, CRUK Kirriemuir Relay for Life chairwoman, added: "At the moment we are still going ahead and will reassess after whatever hits tomorrow. Everyone is gearing up for it and the last thing we want is to cancel before we even start.
"Obviously we need to take people's safety first and will continue to keep teams updated accordingly.
"So much fundraising and preparation has been done and we are all expecting a great day of community spirit and camaraderie. As we all know rain, sun, hail or snow, cancer never sleeps.
"I am sure our walkers will understand we may have restrictions on vehicles etc. moving around the field, but we will endeavour to start at midday."
Regular updates will be made in the run-up to the start time via Facebook at CRUK Relay for Life Kirriemuir.
The organisers of the Dogs' Weekend at Glamis Castle have also said Sunday's event will still go ahead.
It runs from 10am to 4pm and will include flyball events, a display of low impact agility equipment and various competitions.