VIDEO: 'It was eerie': Shocked Tayside fishery owner films 'tornado' overhead
The owner of a Tayside trout fishery has spoken of the moment he feared a homespun tornado would touch down on top of him.
David Duff, who runs Ledyatt Loch Trout Fishery near the village of Lundie, recorded and live-streamed on Facebook the funnel cloud forming and rotating overhead at around 4pm on Saturday afternoon.
A condensed version of the rare event is in the video above this article.
He said: "It was eerie. The wind dropped and the temperature dropped. It was very unusual weather for here. It was very exciting – it's not very often you will see a tornado."
He said the weather had been very hot earlier in the day, around 24C in the shade.
"Then all of a sudden this funnel cloud appeared. It hung around for 15 to 20 minutes. It was very impressive."
A funnel cloud is a funnel-shaped cloud of condensed water droplets in rotating column of wind. If it touches the ground it can become a tornado.
He said he wasn't scared by the unusual weather brewing overhead.
"If it had touched down then we would have taken cover. It's not something you see every day – a full funnel cloud coming at you.
"If it had touched down then it would have taken trees out, but thankfully it broke up," he added.
Around 30 tornadoes a year are reported in the UK, according to the Met Office. They are typically small and short-lived, but can cause structural damage if they pass over built-up areas.
It is the third reported sighting of similar phenomena in the area in the past few months.
Visitors to the Kirriemuir Show reported seeing a funnel cloud form above the showground in July.
Blue skies over the area were said to have darkened as the waterspout dropped from the heavy clouds.
In May, Dundee hillwalker Dave Barrett captured the rare phenomenon of a twin twister while walking up Cat Law, north of Lintrathen.
As the area was hit by thundery showers, the two funnels developed close to each other in the area of Glen Quahrity, a few miles from where Dave was walking but clearly visible from his elevated position.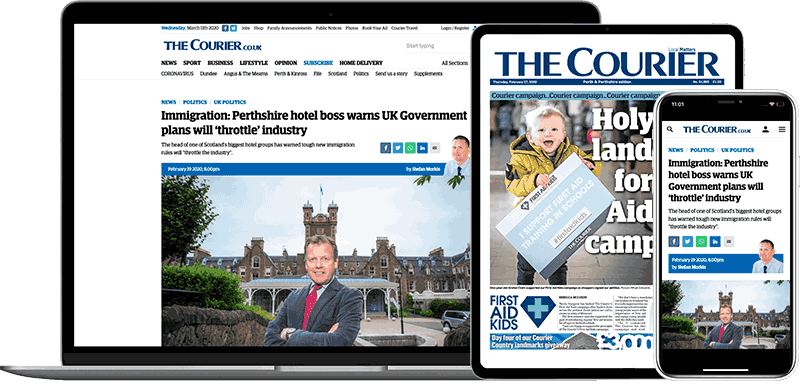 Help support quality local journalism … become a digital subscriber to The Courier
For as little as £5.99 a month you can access all of our content, including Premium articles.
Subscribe