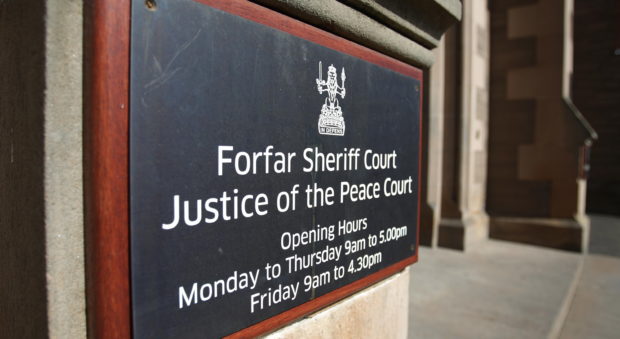 A catapult-firing company director has been told he could go to jail after admitting shooting a folded cigarette packet at another driver in an A90 road rage incident.
Engineering firm boss Stuart Mackie used the vermin control weapon to hit another car after the pair had been involved in overtaking each other on the Dundee to Aberdeen dual carriageway leading to Forfar.
On the Forfar bypass, shocked victim Bryan McNally captured 64-year-old Mackie on his dashcam taking both hands off the wheel of the Transit van he was driving before firing the missile through his open passenger window, striking the driver's window of the victim's Vauxhall Astra.
It later emerged the pair knew each other each other through the accused's successful engineering business, with which he travels around 30,000 miles annually.
Mackie, of Falkirk, appeared before Sheriff Jillian Martin-Brown at Forfar Sheriff Court where he pled guilty to putting another motorist in danger by firing the catapult at him on the A90 on December 18.
The incident happened around 9.30am and depute fiscal Jill Drummond told the court it began when Mr McNally had tried to move into the outside lane after coming upon a slow moving vehicle, but encountered a difficulty because Mackie was travelling at 60mph in his van.
"The accused drove forward and into the inside lane, the complainer drove into the outside lane and there was a gesture," the fiscal said.
At one point Mackie pulled into a lay-by but then caught up with the complainer on the outside lane, took his hands off the wheel and fired the catapult.
"The complainer did turn his dash camera to film the accused at a certain point."
Defence counsel Edward Targowski QC said the accused's civil engineering company was involved in major Scottish projects, including the new Barclay's bank in Glasgow.
"This a matter that occurred in the heat of the moment," the QC told the court.
"It is completely out of character and he regrets what he has done, more so because it is someone who is known professionally to him in the course of his business."
He said the catapult had been in the vehicle for firing at pigeons and vermin on company sites.
"What was fired was a folded cigarette packet, it wasn't a pellet or a hard projectile," Mr Targowski said.
Referring to the dash cam footage, he told the court: "It is clear it is more the noise of what hit the car that causes a shock rather than any damage."
Sheriff Martin-Brown deferred sentence on Mackie to obtain a criminal justice report and Restriction of Liberty Order assessment and the accused will return to court on September 19.
"The nature of the offence is that a custodial sentence is possible," she said.
"It is not at the forefront of my mind, but this is not a minor incident."