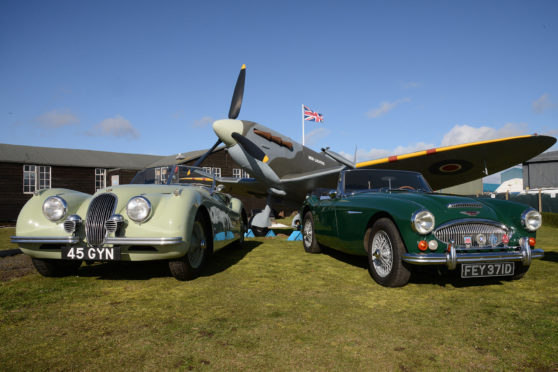 Richard Burton's big cat will add a dash of Hollywood star quality to an Angus event where another British icon will be celebrated as the skies above the nation's first operational military airfield are once again filled with flying machines.
The sleek Jaguar XK120 which once carried the movie legend around the alpine roads near his Swiss home will be part of a display of special cars at Montrose Air Station Heritage Centre's (MASHC) families event on August 24 and 25.
Famous marques including Bugatti and Austin Healey will sit alongside the centre's Red Lichtie replica Spitfire, with a squadron scramble re-enactment due to be one of the weekend highlights in honour of the flyers who trained for combat while stationed at the Broomfield base.
The heritage centre has enjoyed a remarkable year, with an expansion into surviving sheds which were part of the original airfield when it came into service in 1913, and recently played host to the Freedom of Angus reception for RAF No. 2 Squadron.
Montrose Rotary Club is organising the classic car element of the event and the 1953 two-seater Jaguar will make the short trip from owner David Barnett's Classic Autosport's base at Inverkeilor.
He acquired the pastel green machine around 18 months ago and said: "It was put out to the 1953 Geneva Motor Show, Burton bought it and it remained out there at his home until about 10 years ago," said David.
"It's incredibly original and a lovely car."
David hopes to take the Jag on a road trip 'back home' to try and piece together more of its history in the hands of seven-time Oscar nominated Burton, whose legendary fondness for Jaguars was almost a match for his love of Elizabeth Taylor.
A MASHC spokesperson said they are delighted to host the automotive addition to the families open weekend.
"Part of the centre's Battle of Britain commemorations will be a 'squadron scramble' re-enactment after the World War Two pilots who ran to their Spitfire aircraft when the alarm bell was rung," they said.
"Two aircraft from WW1 will be on display include the BE2 and visitors can check out the recently completed Sopwith Camel rebuild. Also on display are a Gloster Meteor and a de-Havilland Vampire and two WW2 aircraft in the workshops under restoration are a Miles Hawk and Avro Anson."
A light aircraft fly-in is also planned, which last year saw more than 40 planes visit from across the UK.
Visitors keen to take to the skies will also have the chance to experience microlight and gyrocopter flights over the Angus coast.
The free entry families day runs from 10am to 4pm on both days.