EXCLUSIVE: Forfar girl rushed to Ninewells after flats blaze 'was shouting I don't want to die'
A 14-year-old Forfar schoolgirl has spoken about her dramatic rescue from a burning block of flats in the town.
Terrified residents were evacuated from the building on Lordburn Place on Friday morning at around 7.30am, after the fire suddenly broke out.
Video footage of the aftermath of the fire is above this article.
VIDEO: Girl, 14, taken to hospital after terrified residents evacuated from burning flats in Forfar this morning
High school pupil Chloe O'Hare was rushed to Ninewells Hospital and was released after being treated for smoke inhalation.
She said: "I'm still scared. I woke up and saw the smoke and that is when I started screaming.
"I was shouting I don't want to die because that's what I thought was going to happen to me.
"I was so relieved when I saw the fire engine. They [firefighters] walked me down the stairs.
"There was an ambulance and they said I had to go to Ninewells to get checked over. I was shaking and I wanted to cry. I kept bursting out into tears in the ambulance."
Frantic neighbours were earlier forced back by flames and smoke in the stairwell as four fire engines rushed to the scene.
Chloe's father, Antony O'Hare, 50, was at work in Brechin He said: "I have gone through all the stages and now there's an anger and I want to know what has happened.
"If Chloe hadn't woken up then she might have passed in her sleep."
One neighbour climbed onto the ledge of a first floor window to help rescue a childminder, the three children in her care and a dog, from the first floor flat.
Firefighters rescued other residents trapped in the block by the fire burning in the stairwell.
Childminder Svetlana Mihnevica, 41, was looking after two girls aged eight and 12 and one boy aged eight, in her first floor flat when the fire took hold.
Her neighbours helped her to pass the children and her dog out of the window, before she followed them to safety.
"I am a child minder and I had the kids in the morning. I look after them before I take them to school.
"I went to the door and I saw the white smoke so I went back inside to start dressing all the kids. I tried to go back out but there was too much smoke.
"All I could think about was getting the kids out."
Timur Kharison, 38, whose house looks onto the building, was one of a group involved in the rescue.
He was met with flames and acrid smoke pouring from the entrance as he arrived at the scene.
He said: "Our friend lives in a first floor flat.
"It was about 7.30am and I could hear screaming from people at the windows. I tried to get in the door but there were flames and smoke – it was completely black.
"I stood on the windowsill and helped her out, along with three children and a dog. People were screaming, people were climbing out of the windows.
"Another two guys were also helping."
Ambulance crews treated residents rescued by the fire crews from Forfar and Kirriemuir, as shocked residents, many still in their nightwear, looked on.
John Muir, 52, who lives with his wife Sonia, 61, in a ground floor flat in the burning block, woke at 7am after hearing a loud bang.
He looked through the peep-hole of his door and saw an "orange glow".
He said: "I went into the hallway, looked out and heard shouting.
"I couldn't get out the door so climbed out of the window. I phoned for the fire brigade and I helped my wife out of the window."
A Scottish Fire and Rescue Service spokesman said they were alerted at 7.33am on Friday.
He said: "Operations Control mobilised four fire engines to the town's Lordburn Place, where firefighters were met by a fire at the building's entrance.
"Crews extinguished the fire before leaving the scene. There were no casualties."
Residents fear stairwell build-up contributed to blaze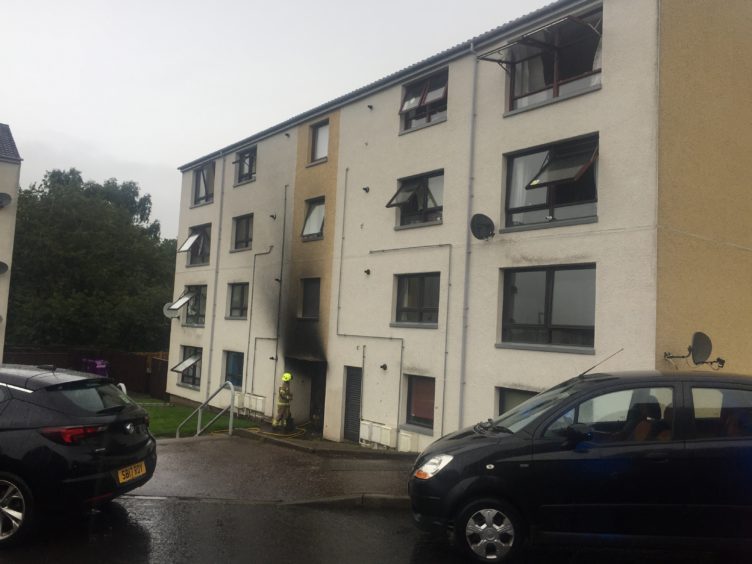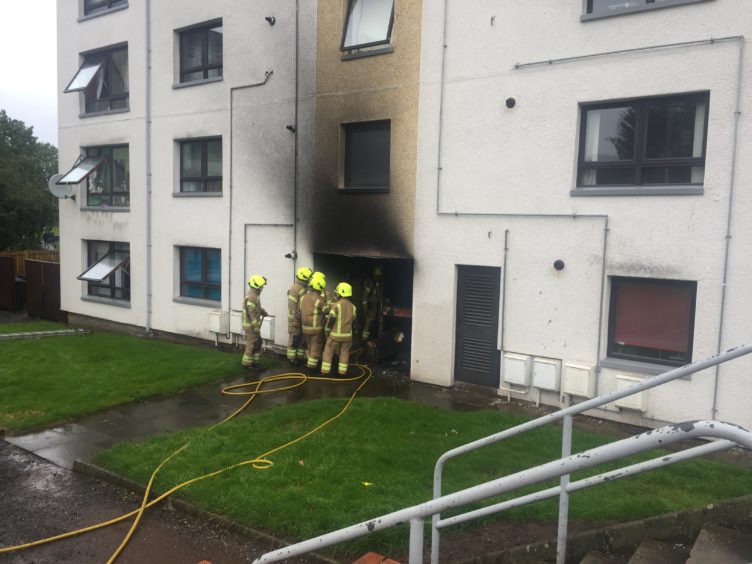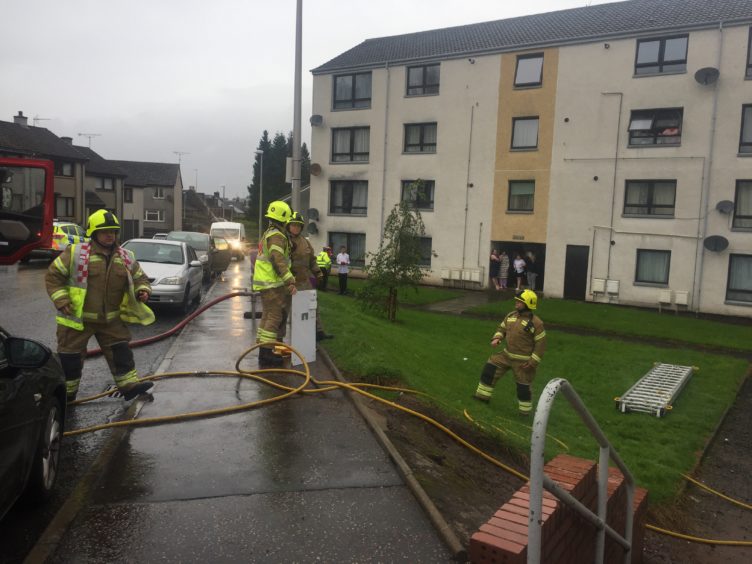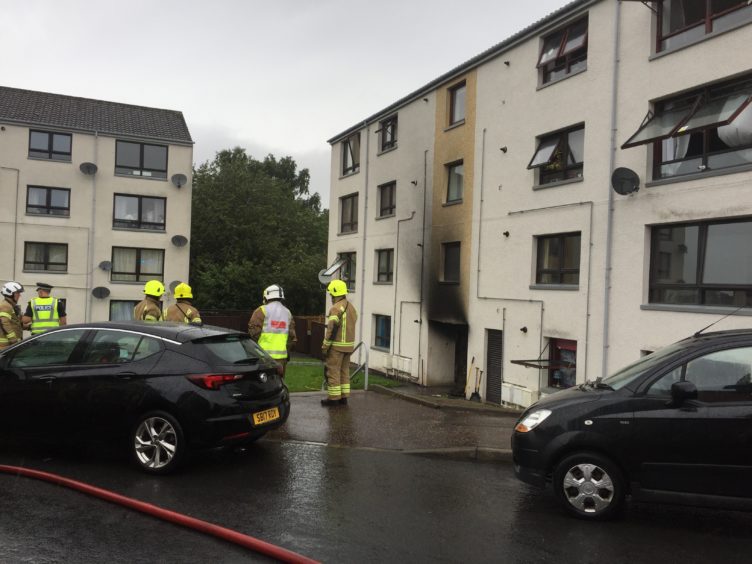 The residents believe a heap of discarded items and rubbish at the foot of their building's stairs may have been responsible for the recent blaze.
The burnt out objects were clearly visible from the street at Lordburn Place on Friday morning, with a bike frame poking out of the debris, as evacuated residents returned to their homes to assess the damage.
Residents fear the discarded items may have been accidentally set alight.
Police investigators attended the scene early on Friday afternoon as work began on establishing the cause of the fire.
Ms Mihnevica said she had complained to the council on a number of occasions about the items.
"It worried me when I saw it. I have made a few calls to the council, but nothing has been done."
Mr Muir said: "I don't know how the fire started but there have been chairs and plastic bags piled up in the stairwell."
A police spokesperson said: "Enquiries into the circumstances are at an early stage."
An Angus Council spokesman said it was not appropriate to comment on the cause of the fire at this time.
He said: "Police Scotland and Scottish Fire and Rescue Service are carrying out enquiries to establish the cause of the incident.
"Our officers have been at the scene since early this morning, assessing the damage and offering assistance to both residents and emergency services as required.
"Our housing service officers have offered alternative accommodation to families within the block.
"Cleaning of the affected areas will start once police colleagues have completed evidence gathering at the scene and any security issues will be addressed," he added.