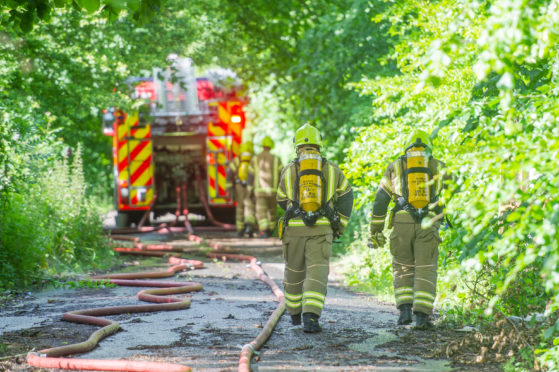 Cautious optimism has been aired that efforts to educate firebugs over the dangers of the derelict Strathmartine Hospital may be paying off.
The empty buildings on the sprawling site continue to be targeted by young fireraisers – the latest attack prompting a major 999 turnout – but Angus councillors have been told work to curb the issue is now showing signs of success.
Angus Council scrutiny and audit committee members were given a run down of the evening incident in early June which saw 40 firefighters confronted by what was described as a "well-developed" blaze.
It took hold over three floors of one of the site's derelict buildings, and was finally declared extinguished at almost 10 o'clock the following morning.
Scottish Fire and Rescue Service group manager Roy Dunsire said that despite the scale of the blaze, the frequency of Strathmartine incidents was hopefully going in the right direction.
"It would appear the work we have done is having an impact on the fires in that area," he said, in relation to a multi-agency programme including extra police patrols and talks to both secondary and primary children in schools close to the site.
The incident also prompted a taskforce meeting at the former hospital, but local councillors expressed disappointment they had not been invited.
Monifieth and Sidlaws Liberal Democrat Ben Lawrie said: "All involved in tackling the fire at the beginning of June overcame some serious challenges and they should be praised for that.
"My question is around the security of the site and what is done to stop people getting in."
Mr Dunsire replied: "Security is a challenge. There is security, but they find loopholes and ways of getting in. I know Angus Council and building standards also visit the site as well."
Scrutiny and audit committee convener, Arbroath SNP councillor Alex King suggested a site visit for councillors unfamiliar with the old hospital site.
"Prior to the granting of planning permission we carried out a visit which was very constructive and I think a repeat of that may be useful for those who were not on Angus Council at that time."
First quarter summary figures for overall deliberate secondary fires totalled 41 in Angus, against an annual target of being below 105.
The data also revealed a rise in deliberate primary fires, but SFRS officials reported drops in areas including accidental dwelling fires, road traffic collisions and non-fatal casualties in both domestic and non-domestic incidents.