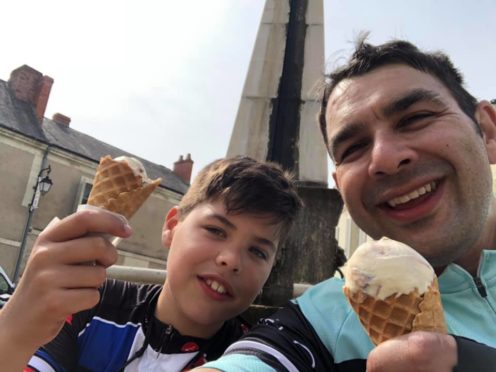 A triumphant Tayside father and son who cycled through France from the Channel to the Mediterranean received words of encouragement from round the world record-breaker Mark Beaumont.
Shaun and Reuben Waddell from Inchbare in Angus completed the 1,000-mile route with only a couple of mishaps along the way.
A day of sickness for Reuben, as well as some bike problems, did not deter the determined duo as they pedalled their way from the north to the south coast of France, raising vital funds for the north-east charity Absafe.
Spurred on by the promise of a walk round the world-famous Grand Prix track at Monaco, Reuben kept pace with his dad as they powered their way through scenic mountain passes, covering up to 82 miles a day.
Shaun, 45, was heartened when they received a personal message from the record-breaking long-distance Scottish cyclist who holds the record for completing his 18,000-mile route in less than 79 days.
He said: "One of the highlights for me was getting a PM from Mark Beaumont. He was evidently following our blog."
The adventurer told the pair to "keep up the great work pedalling and blogging. I can't wait to do the same with my daughters when they are a bit older."
As Reuben, 12, started back at Lathallan School at Johnshaven on Wednesday, his proud dad explained the bikes were now back in the shed – for the time being.
He described their adventure as "brilliant" and one he can now tick off his bucket list.
"It was definitely tough at times, particularly in the last six days or so as we went through the Massif Central.
"And then there was the heat.
"On the second last day we climbed way above 4,000 feet, a day of relentless climbing equivalent of being beyond the height of most munros."
The pair have completed two memorable bike rides in Scotland – Oban to Montrose when Reuben was eight and Mull of Galloway to John O'Groats/Dunnet Head when he was 10 – but this was their most challenging as they were unsupported, apart from a small bike trailer.
Shaun continued: "The drivers are massively more courteous than here, especially in the north.
"The vast majority of the roads are in much better condition, the tarmac is nice and smooth."
The inspiration for their Tour De France, from Saint-Malo in the north of France to the Cote D'Azur seaside resort of Nice, was based on a book called France En Velo, written by cyclists to chart the coast-to-coast route.
Wee bit of video just before lunch – reverted to the hand held mount. I figured I was closer to a decent hospital today…..

Posted by Lad and Dad's Big Bike Tour on Saturday, 17 August 2019
They set off on July 29 for their three-week journey, and were bolstered when they passed their £2,000 fund-raising target on August 4.
This will enable Absafe – for which Shaun volunteers – to carry out life-saving risk-assessment training courses for all ages.