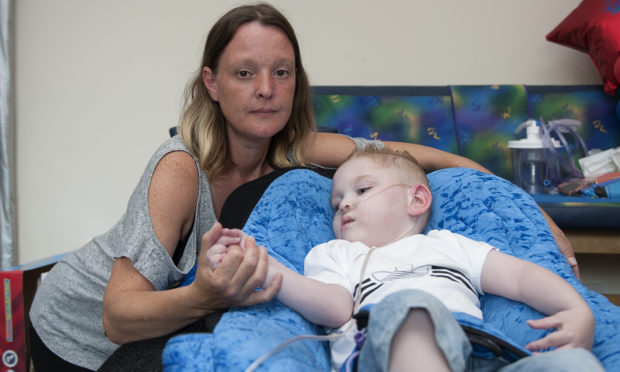 A Tayside mother has told how she removed her severely disabled son from school amid concerns for his safety on the school bus.
Emma Bradley from Montrose, a full-time carer for five-year-old Kane, was pleased when he was given a place at Kingspark School for pupils with additional support needs in Dundee.
After only two days, she removed him, and is calling for an urgent review of the escort service offered by Angus Council.
Emma, 41, has now been told she and Kane will be given alternative travel arrangements by the middle of next week, which will enable him to return to the classroom.
But she stressed lessons have to be learned to ensure this does not happen to other families.
She had claimed that a male employed to escort a fellow pupil to Kingspark had fallen asleep on the bus.
She and Kane had travelled from their home for the first day of term on August 13 with no incident, but the following day Kane was left "terrified" when another child started kicking and screaming.
Kane has complex needs after being born at 24 weeks, weighing just 1lb 9oz.
He defied the odds to survive but requires 24-hour care and is constantly given oxygen.
The youngster suffers from a range of serious health problems and receives palliative care at Rachel House, Kinross.
Emma said: "He was very upset on the bus. He has to be strapped into a wheelchair, he can't protect his face, he is noise-sensitive but can't wear ear defenders because of the head rest, and needs oxygen.
"It was awful. This boy was kicking and screaming at a high pitch. I totally appreciate that, but it was a nightmare.
"Kane has now missed nine days of school. His life expectancy isn't great but I was not putting him on that bus – he was petrified.
"He has had sepsis and has been on life support twice. He is in good health at the moment so this is when he should be going to school.
"All I am asking for is for him to go to school peacefully, happily and safely.
"I want safe transport and better escorts for all kids."
An Angus Council spokesman said: "Angus Council is committed to getting it right for every child.
"While it is not appropriate to comment on the individual needs or circumstances of our children and young people, we can confirm our Additional Support Needs service is aware of this situation and is in touch with the parent with regards to issues raised."