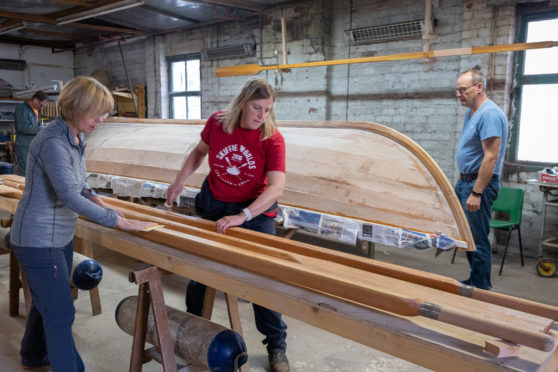 A year-long labour of love by a small team of coastal rowers will bring back a bit of history to the north east coast of Angus.
Montrose coastal rowers are about to launch their hand-made St Ayles Skiff community rowing boat, which will compete at national events up and down the country.
After gaining financial backing from local companies, they purchased a special kit which retired engineer Len Mackie has meticulously put together.
It is now all hands on deck as volunteers paint and varnish the inside and outside of the 22-foot boat before launch day on September 14.
Team captain Fiona Guest explained skiffs, crewed by four rowers and a coxswain, once played a huge part in Scottish history, with one known to have been used in the Montrose and Ferryden area.
She is hopeful the new Montrose boat will attract participants keen to experience the thrill of taking to the open water.
She said: "We have been working on this solidly for about a year now.
"Thanks to the generosity of local people in the community we were able to purchase the kit and the paint.
"We have been so lucky with Len who carried out the construction, glueing, sanding, painting and making the oars and rudder.
"He has never built a boat before but has been ingenius in building the boat from scratch.
"Crew members have also been rowing with local sister skiffs – Gourdon's Maggie and Catterline's Spirit of Catterline.
"They have rowed all over Scotland and in Northern Ireland, in two world championships as well as local regattas and sometimes in Montrose Basin, thanks to Montrose Sailing Club's generosity in allowing them to use the club's slip."
She said there has been a resurgence in the sport over the last 10 years.
"Some 'skiffies' like the thrill of racing against other clubs' boats, some just like the chance to go out for a row up and down the coast around their town.
"Whether they race or enjoy a wee expedition they do so in boats built by their own community. "Montrose is now part of this wider Scottish rowing community, as well as reviving a rowing racing tradition in Montrose and Ferryden which was part of the town's history from the late nineteenth to mid twentieth century.
The Montrose skiff will be launched at 2pm on September 14 at Montrose Sailing Club when members of the public will be given the chance to try it out.
It will then be in action on September 21 when crew members compete in the Castle to Crane event, rowing 13 miles from Dumbarton Castle to the Finnieston Crane in Glasgow.