Council tenants have been warned action will be taken against them if they continue to dump their belongings in common stairwells.
Officers have carried out inspections of entrances and stairs in blocks of flats after a terrifying fire in Lordburn Place in Forfar.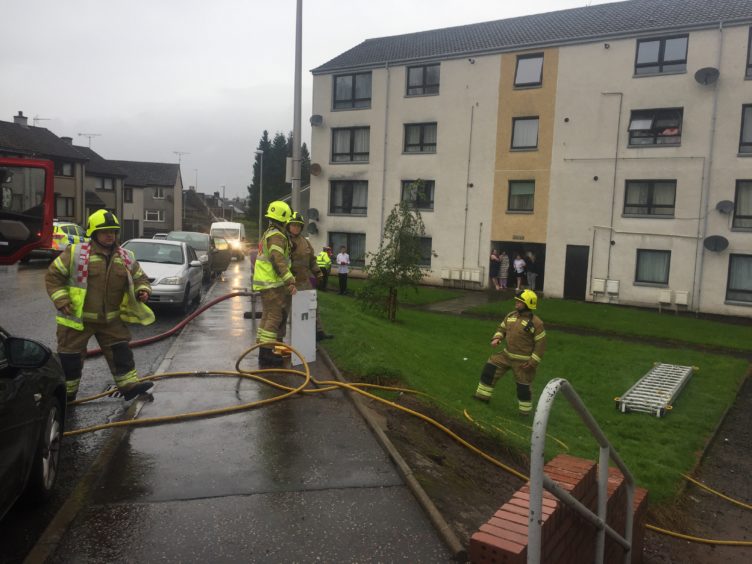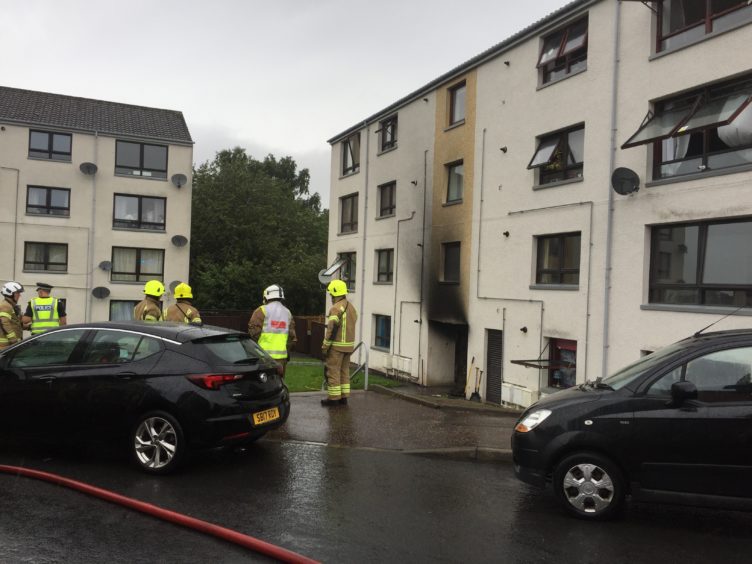 Residents feared for their lives when fire broke out in their four-storey block.
Angus Council has issued a stern warning to residents to keep the common areas clear of belongings following the early morning blaze on August 16.
A spokesman said: "Our officers have inspected all of the common stairwells in Lordburn Place since the fire and have reminded tenants it is vital they keep the entries clear.
VIDEO: Girl, 14, taken to hospital after terrified residents evacuated from burning flats in Forfar this morning
"There has been a big improvement in this time. We urge all our tenants living in flats not to put items or belongings in communal spaces, so as to minimise any fire risk and impact on accessibility.
"We will take appropriate action where residents fail to do this."
Police Scotland and the Scottish Fire and Rescue Service have confirmed investigations and inquiries remain ongoing, although residents believed the fire started after furniture and plastic bikes were accidentally set alight.
Neighbours rushed to rescue those trapped by thick, acrid smoke belching from burning material at the entrance.
Childminder Svetlana Mihnevica, three children and a dog were rescued from a first floor flat, whilst 14-year-old Chloe O'Hare was led out by fire-fighters and rushed to Ninewells Hospital for treatment for smoke inhalation.
EXCLUSIVE: Forfar girl rushed to Ninewells after flats blaze 'was shouting I don't want to die'
Svetlana had complained to the council about the rubbish on a number of occasions but said nothing had been done before the fire broke out.
Advice to tenants has also issued by the local council's housing team following the blaze.
They said: "We were all shocked by the recent fire at Lordburn Place.
"We're asking all council tenants to promote fire safety in and around blocks of flats.
"We take the issue of fire safety very seriously and want to ensure tenants and their families are as safe as possible from the dangers of smoke and fire.
"Common parts of any shared premises are particularly vulnerable if rubbish is allowed to build up in stairwells.
"We inspect our blocks of flats on a regular basis to identify and report any issues for priority repair – we will take action against anyone who endangers the safety of occupants of blocks by dumping rubbish in stairwells
"We work with Tayside Fire and Rescue Service to ensure our blocks of flats are as safe as possible, carrying out regular fire risk audits."
Tenants were reminded not to store rubbish or flammable materials in communal areas and to report any build-up of such materials immediately to the council Accessline on 0345 277 7778.