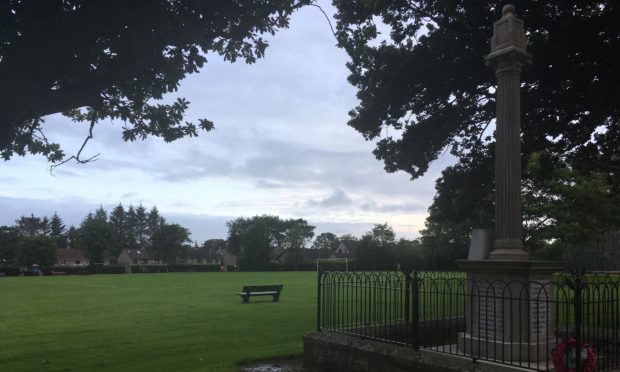 Refusing to sign over a village park to a group memorialising the First World War risks "degrading" those who died, politicians have been warned.
Councillors voted last week against Dempster Park in the Angus village of Letham joining the UK-wide Centenary Field's initiative.
Charity Fields in Trust is working with the British Legion and Poppy Scotland to protect parks in memory of those who lost their lives during the Great War.
Montrose SNP councillor Bill Duff said handing control of the park's future to the charity would "blight" the council-owned "asset".
Lorna Bruce, treasurer of Kirriemuir Landward East Community Council, said: "I think this is just an appalling decision by the full meeting.
"The language used is degrading to the people that were lost in the war."
Council officials had earlier warned the transfer would mean the park "could not be sold or developed in any way" without the charity's permission.
Mr Duff said: "Our responsibilities as elected members are to look after the assets of the council. Dempster Park in Letham is one such asset.
"We have full unencumbered rights and use for this asset at present. Taking actions as outlined in the paper will give a third party, Fields in Trust – over which we have no control – the right to restrict the free actions of this council, with no consideration to us.
"That is not a rational decision for the council to take. If we want to commemorate the First World War, or other event, then we can take that decision ourselves without involving a third party and without blighting our asset."
The historic park takes its name from the Dundee-born founder of the village, George Dempster, the son of the 2nd Laird of Dunnichen. The park was chosen for the Centenary Fields initiative as it is home to the village's war memorial.
Council officials had recommended accepting the offer, listing ten other parks in Angus that have protected status under earlier Fields in Trust schemes. Dundee City Council has already agreed to participate in the Centenary Fields programme.
The decision had earlier been deferred to full council to enable closer consultation with the local community
Neither Letham Community Council or the local Feu Trustees raised any objection.
Forfar councillor Braden Davy of the Conservatives said he was "genuinely shocked" by the decision.
"I was particularly appalled at councillor Duff saying this war memorial had the potential to 'blight' the area.
"How would designating something which would mark the sacrifice made by all those who lost their lives in World War One 'blight' anywhere?"