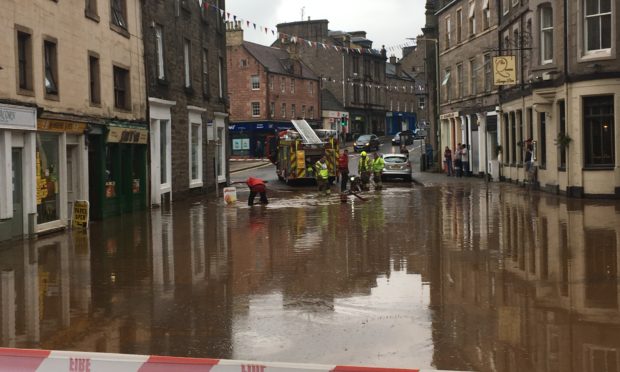 Almost 200 Forfar homes are at risk of regular serious flooding – some as often as once every two years.
Engineers working on flood control measures in Forfar presented the findings of a study to the public on Tuesday in the Angus town's Meffan Museum.
They presented a map showing surface water at a depth of a few centimetres running down from the hills and surrounding the town, before pooling in "hotspots" where there is a serious risk of flooding at potential depths of up to one and a half metres.
They called for houses in the danger areas to be fitted with waterproof doors, among other protection measures.
Mark McMillan, senior engineer with JBA consulting – commissioned by Angus Council to carry out the work – said: "The appraisal study has identified that some properties are at risk and could be flooded once every two years."
"There was an example of flooding at the start of August. Water came off the hills, down the vennel and into the high street."
The risk was greatest in certain parts of the town, he added. South Street, East High Street, Academy Street, Queenswell Rd and Myre Rd were all included in the danger areas marked out on the project's map.
Forfar currently does not have a flood protection scheme.
He said they were recommending "property level protection" measures on up to 192 houses to keep flood waters at bay, including waterproof doors.
"We looked at the cost of various options up against the damage they would prevent against. This led us to recommend property level protection be installed at the areas most likely to be affected."
The team also suggested the construction of flood water basins at certain locations across the town. These are built under green space, such as football pitches, and collect floodwaters before slowly letting them drain away.
Flood basins at Lour Rd, Craig O' Loch Rd, Arbroath Rd, Reid Park Rd and St James Rd were considered as part of the study.
"These came out more expensive that we thought but, if there is public support for those options, then we can look at these again," he said.
The results of the public consultation exercise will be incorporated into the report, which is due to be delivered to the council early in November.
Georgia Kirtsi-Mathieson, Angus Council design engineer, said: "These are the options that have been identified, but more work will then need to be carried out on the final design that is chosen."