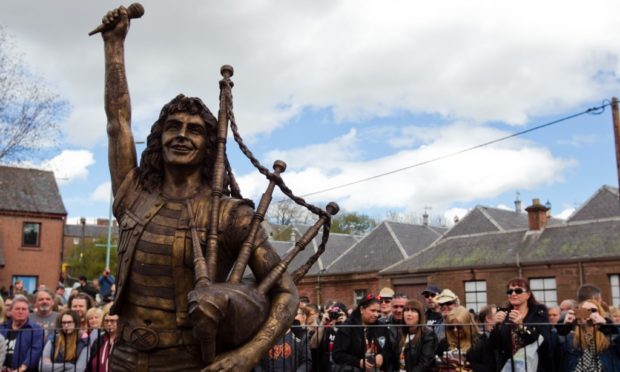 Plans for a rock and roll memorabilia museum in Kirriemuir have moved a step closer after the project won more than £77,000 in new funding.
The tourist attraction in the hometown of AC/DC singer Bon Scott was one of the key projects to win support as councillors allocated more than £1 million aimed at rejuvenating local high streets.
The museum plan builds on the huge success of BonFest, the hard-rock themed festival that brings thousands of music fans to the Angus town each year.
Kirriemuir councillor Julie Bell, SNP, said she was delighted her colleagues had backed the scheme.
She said: "As far as I'm concerned, you go big or you go home.
"It was the option that presented the greatest opportunity to make a serious difference and bring a lot of energy and people to the town centre.
"There is so much going on in Kirriemuir related to music," she added.
Graham Galloway, one of the team behind the project, said it was "incredible news."
"We weren't expecting to be the only project from Kirriemuir to be chosen," he said.
Mr Galloway said the group already had access to a large collection of AC/DC memorabilia, some of which had been loaned to the local museum during previous BonFests.
Members have also been in discussions with the Scottish Land Fund, which supports community buy-outs, he added.
They are currently looking at "two or three buildings" in the town as possible locations for the museum.
"It won't only be AC/DC. We want to build it up to recognise Scotland's links with rock music. They'll also be a bit in there about traditional music," he added.
The £77,215 is the entire pot allocated to Kirriemuir from the town centre fund.
The money was made available by the Scottish Government when it announced a new £50 million fund to support town centres in March this year.
Angus council officials ran a public consultation before drawing up a shortlist for each of the county's towns.
The £148,709 allocated to Carnoustie will go towards a heritage trail, including high street seating, and tourism information about the town and the famous golfers who have played there.
Forfar's £184,142 share will be divided between a town centre facelift, night lighting for prominent buildings, improving parks and upgrading the path between the town centre and Forfar Loch.
In Arbroath, councillors backed renovation works at Arbroath Courthouse and an app for tourists to share its £312,294 portion.
Officials will spend £156,180 on cleaning gutters and painting buildings on Montrose High Street.
Brechin residents will see the same as well as more tourist information points in a £94,050 programme.
The decision on Monifieth's £107,411 was deferred so councillors could hold further discussions.