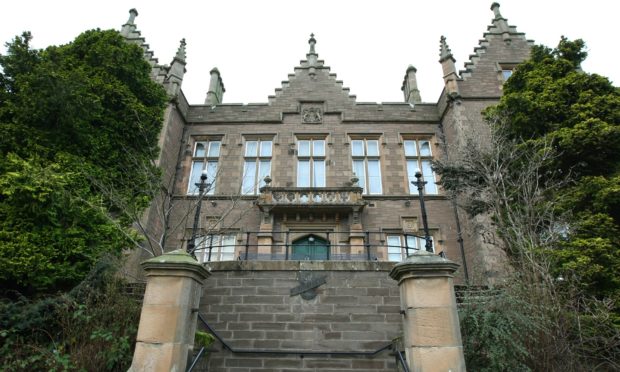 Police were called by a woman involved in an online chat with an Angus man after she was shocked by the sight of a Nazi submachine gun in the "war room" of his home.
The MP40 and a Luger pistol proved to be replica weapons. However, they have now been confiscated by a sheriff after an illegal air rifle and ammunition were also uncovered when a search warrant was executed.
Shaun Ramage, 23, of Ness Drive, Arbroath, appeared for sentencing at Forfar Sheriff Court after he previously admitted possessing an air weapon without a certificate at his home on June 8 and also having live rounds.
Depute fiscal Jill Drummond said the accused had told the female he was a collector of military and Nazi memorabilia and sent her pictures of his so-called "war room".
They included an image of the MP40, a 9mm submachine gun developed in Nazi Germany and used extensively during the Second World War.
"She was unsure if they were replicas and contacted police to report the matter," the fiscal added.
"A vehicle was seen in one of the images and checks revealed it was registered to Ramage's address."
Police executed the search warrant on June 8 and were told by Ramage: "There are a couple of air rifles but I don't need a licence because they are below the pressure."
Officers found an air rifle with scope, pellets, ball bearings, air darts and the MP40 and Luger pistol among the accused's collection.
Ms Drummond added: "Firearms officers found the MP40 and Luger were replicas and not capable of firing ammunition. Two air rifles were active and capable of firing air pellets.
"Checks confirmed the accused did not hold appropriate certification."
Ramage told police: "The air rifles are mine and you can take them if you want."
Defence solicitor Billy Rennie said the offence was a "one-off" resulting from a misunderstanding over the air weapon he had been given some years before new rules came into force in 2015.
"He is not someone who is involved in offending. None of these were being used and were part of his collection of memorabilia," said Mr Rennie.
Sheriff Jillian Martin-Brown fined Ramage £200 and ordered forfeiture of the weapons and ammunition.