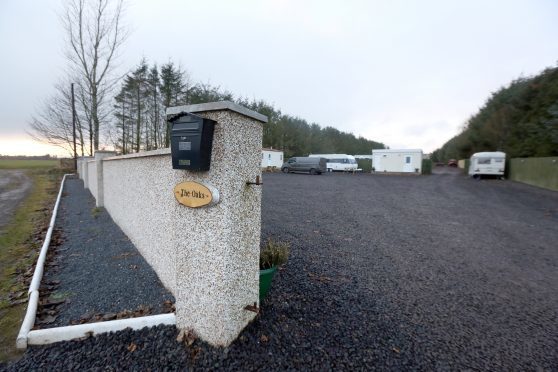 Angus Council has been urged to show a 'social conscience' and overturn refusal of an unauthorised caravan site which will 'split up a family'.
An appeal has been lodged following the local authority's decision to turn down a retrospective application to turn land near Kirriemuir into a Traveller site despite a doctor's plea.
This will be brought before a special meeting of the development management review committee in Forfar on Thursday where elected members will be told they will be "breaking the family bond" unless they overturn the decision.
Site owner John Townsley was previously granted planning permission for the existing Traveller pitch on the south-western edge of Kirriemuir.
Another pitch was later formed to the rear of the approved one following the marriage of Mr Townsley's daughter which prompted a planning battle.
Retrospective planning applications submitted by Mr Townsley have been turned down since July 2016 because it was contrary to the Angus Local Development Plan (2016).
Planning agent Alan Seath submitted an appeal after their most recent application was refused.
He said: "The council propose to remove the daughter from the site through the use of the planning system, relying on another publicly owned site at Balmuir, Tealing, where there will be no family support; where safety is a concern; and access to local facilities is difficult.
"These are all important factors to consider for a young woman who is suffering from ill-health and has a young child to look after.
"Her health and well-being is being ignored contrary to doctors' advice.
"The father will not stay on site without his daughter, son-in-law and grandchild.
"The Gypsy/Travelling community live centred on family values and caring for their own.
"In this case the family feel like the bond is being broken by the planning process."
At the time Mr Townsley said he wanted to create a "safe and secure base" to allow his daughter and her husband to remain settled in the region alongside the rest of the family.
The application is supported by letters from Mr Townsley's daughter's doctor confirming she was subject to a number of medical conditions and it would be "beneficial for her health to remain at this address".
Mr Seath said the outcome of Thursday's decision will be difficult to predict "given the difference in approach to the decision making process regarding the interpretation of planning policy".
He said: "The decision in favour of the father's pitch still provides hope that there can be a positive decision.
"The extended Townsley family now rely on the elected members of the local review board having a social conscience and understanding the material planning considerations which add significant weight in this case."
An Angus Council spokesman said: "The applicant has submitted an appeal after their most recent application was refused by the council.
"This will be brought before the development management review committee on September 26."