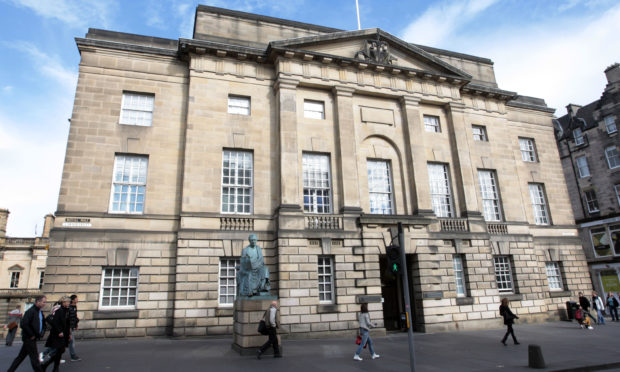 An Arbroath man who stabbed his wife in the chest after the couple went on a night out escaped a jail sentence yesterday, after the victim made a plea to spare him prison so they could be reunited.
Tony Cartney's wife Leigh left the High Court in Edinburgh smiling and relieved at the outcome.
Cartney, 49, was originally charged with attempting to murder his wife on September 8 2018 at the family home in Buick Drive, Arbroath.
But his guilty plea to a lesser charge of assaulting her by striking her chest with a knife to her severe injury, permanent disfigurement and to the danger of her life was accepted.
A judge told Tony Cartney he regarded it as an exceptional case and placed him on a community payback order with three years supervision and a 300-hour unpaid work requirement.
Lord Boyd of Duncansby said: "So far as punishment is concerned you will have to live with the fact that you caused a very serious injury to the person you love."
Lord Boyd said he took into account that Cartney was a first offender with a good work record, who was genuinely remorseful and did not pose a threat to the public.
"I am also satisfied that were I to impose a sentence of imprisonment it would have a deleterious effect on your wife and be as much punishment for her as it is for you," he said.
Lord Boyd said he had received a victim impact statement from Mrs Cartney and added it was clear she wished the relationship with her husband to continue.
He said that the enforced separation between the couple over the past year when she was prevented from seeing Cartney because of a court order was "an unhappy and stressful time for her". The judge added: "She describes it as a bereavement."
Lord Boyd said that everything he had seen and heard suggested that Mrs Cartney's views were "genuine and freely held".
The couple went out drinking in Arbroath on the day of the offence and after meeting another couple they went to the Rams Heid bar.
After they returned home an argument broke out and Cartney went into the kitchen and returned armed with a large knife, before stabbing his wife to the left side of her chest.
Defence solicitor advocate Kris Gilmartin said: "Leigh Cartney's family have forgiven Tony Cartney for his actions and so too has Leigh Cartney."
Mr Gilmartin said college employee Cartney has shown "genuine distress, guilt and remorse" following the offence.
At the time he was under stress and abusing alcohol but had sought help for the problem and has abstained from drink since, the solicitor added.
He said Cartney was assessed as suitable for a non-custodial sentence and no public protection issues were identified.
"The true punishment in this case is that he knows he has caused harm to the person he loves deeply," said Mr Gilmartin.