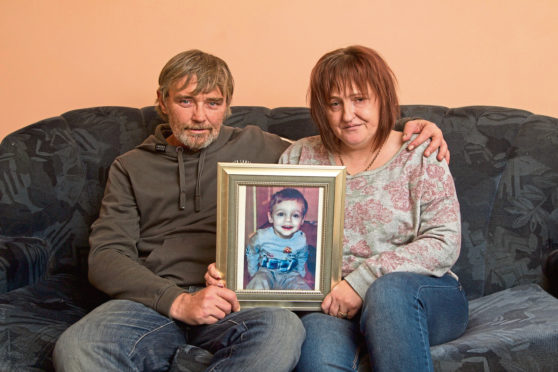 A fatal accident inquiry is to be held into the death of a four-year-old boy who fell seriously ill at home.
Leylan Forte died in April 2015 from dehydration, gastroenteritis and norovirus after becoming unwell over a weekend.
His mother and father, Leanne Smith, 40, and Wayne Forte, 50, have alleged negligence by NHS 24.
The couple, of Montrose, claim they repeatedly called the out-of-hours helpline but were told a doctor would not be sent out.
Leylan suffered from cerebral palsy and an eating disorder and was unable to communicate.
The Crown Office and Procurator Fiscal Service have announced a sheriff will investigate the death due to it happening "in circumstances giving rise to serious public concern".
A preliminary hearing in the fatal accident inquiry will be held at Forfar Sheriff Court on November 7.
Last year, Miss Smith and Mr Forte said they were planning to sue NHS24 after receiving an expert report stating they had been given wrong advice.
Miss Smith said: "On the basis of that we are planning to sue them for negligence. With better advice, Leylan might still be alive.
"The medical report also states that an ambulance should have been sent to Leylan on the same day as our call to them but was not.
"This could have been a contributing factor in his death.
"We have waited a long time but we feel we are finally getting somewhere."
She added: "It is now four years since he died and we have not been able to think about anything else in all that time.
"We have been waiting for answers and I hope we are now a step nearer to getting some kind of closure."
A public notice announcing the inquiry states: "An inquiry into the death of Leylan Kai Forte, Born 26 November 2010, is to be held.
NHS 24's medical director Dr Laura Ryan said: "We were very sorry to hear of Leylan's death in 2015 and our sympathies are with his family.
"NHS 24 will participate as required into any further investigation into the service which was provided by NHS 24."