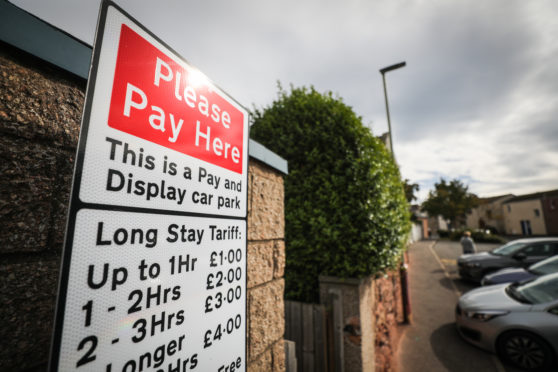 Do as I say, not as I do.
Polymath John Selden may not have been a local lad, but his 17th Century words have certainly passed plenty Angus lips in recent days.
The well-used phrase of parents everywhere was pretty much the reaction to council leader David Fairweather's admission he parked for free at a supermarket to attend a committee meeting — thereby dodging coughing up a couple of quid in one of the authority's off-street car parks to which charges controversially returned last year following an absence of more than two decades.
In those intervening months, parking has become a pejorative term in Angus and a key contributor to the frequently febrile atmosphere of the council chamber.
It may not be the crime of the century; heck, it's not even a crime, but the leader's act – and subsequent defence – raised eyebrows and more than a little ire.
Blaming not so fair weather for parking as close to County Hall as he could, the Arbroath councillor declared he hadn't 'given a thought' to purchasing one of the permits he and colleagues have hailed as remarkable value at 85 pence per day on pretty much every occasion critics have challenged them over the loss-making set-up they fear could take a decade to wash its face.
However, while the topic is the hottest tattie the rural authority has to handle, a trip into the archives reveals it isn't unique to Angus.
Parking and politicians haven't been best bedfellows at local level for decades.
Dundee's underground car park below City Square was dogged by bother when it emerged cooncillors could stay there for half the price of punters after a charges hike.
A political row then broke out a couple of years ago over city representatives using council visitor spaces in what some saw as an attempt by elected members to dodge payment.
The controversy around the re-introduction of Angus meters even entered the debate during an unsuccessful attempt to stop charges being brought in at off-street facilities in the city's West End this year.
And so we return to John Selden who, coincidentally, was also a politician, but in the Palace of Westminster.
Selden's words are well known, but it can't be said with the same certainty whether they were possibly a reaction to being told where to park his horse and carriage while on 1600s Commons business.