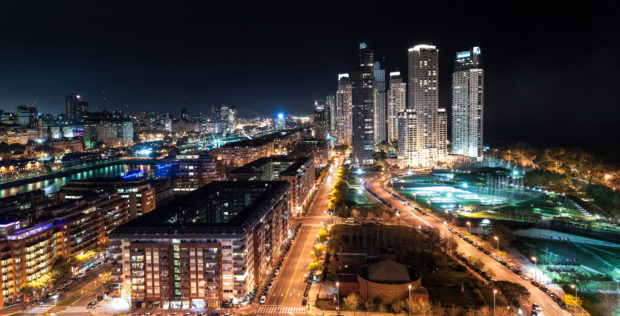 Descendants of an Angus family whose legacy is still stamped in Argentina after 134 years will gather in Buenos Aires next month.
A gathering of Douglas Fraser's descendants have met every year since 1994 and over 100 are expected to attend from the UK, Argentina, Uruguay, Peru and the United States.
Douglas Fraser and Sons, from Arbroath, was established in the early 1830s before expanding their business into Argentina after Mr Fraser's youngest son, Norman, invented a machine for plaiting jute to make candlewick in 1881.
It was the invention that made the Fraser fortune.
The firm was looking for ways to diversify and identified an opportunity for mechanising the production of jute-soled shoes called Alpargatas using this technology.
The factory, built as a result in 1885, still stands just a couple of blocks from the Boca Juniors football ground in Buenos Aires and displays an Arbroath heraldic plaque.
After initial struggles, the business in Argentina took off and spawned sister companies in Uruguay and Brazil and became a vast enterprise.
A significant number of Arbroathians went to South America to work for these companies.
Simon Fraser from Dunkeld, whose grandfather was Norman Fraser, is among those travelling to the gathering in November.
Some of his grandfather's Arbroath-built machines are still operating in Tucuman in northern Argentina where Mr Fraser is also making plans to visit.
"My forebears were fortunate to be in the right place at the right time," he said.
"They possessed the right experience of textile industries and had appropriate engineering skills, both acquired in Arbroath, to capitalise on the commercial opportunity to mass produce footwear for the South American market in the late 19th and early 20th centuries.
"The success of the business was not achieved lightly: there were huge stresses both in Arbroath and Buenos Aires, and I most admire how Douglas Fraser's sons pulled together to get through the hard times.
"Through their drive and design talent, they managed to diversify when the demand for sailcloth declined, and to establish a successful enterprise on the other side of the globe.
"While their enterprise was inevitably driven by Victorian values, these were not solely of self-interest – they saw it as their responsibility to do what they could for their community in Arbroath.
"The records, inevitably, concentrate on the roles of Douglas Fraser's seven sons, but this is a success story in which many Arbroathians played their part, and of which their successors can be justly proud."
In 2017 the British Film Institute released a 14-minute clip of the Fraser family at their mansion in Cairnie Hill in 1928 which it said gives a glimpse of the "idyllic lifestyle of the super-rich in 1920s Arbroath".
In 1959, Douglas Fraser and Sons was taken over by Giddings and Lewis from Wisconsin but a world slump around 1970 hit machine tools particularly hard and the business is no more.
Following the winding up of the company, the factory bell, which had summoned the workforce to its Wellgate Works in Arbroath, was hung above the entrance to the original Buenos Aires factory in a special ceremony.
There are 100,000 people of Scottish descent in Argentina but the role the Scots played in the rapid growth of the country's economy is less well known than that of countries from the former British Empire.