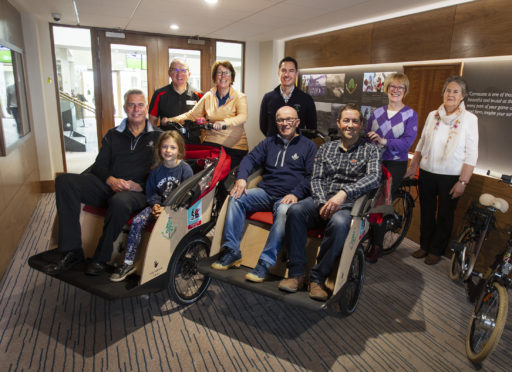 The legacy of Carnoustie's history-making 2018 Open Championship is set to roll on in an innovative new community first for Angus.
A trio of trishaws have arrived in the town and will soon be piloted by volunteers in the latest expansion of Cycling Without Age, an initiative founded in Copenhagen which now has a global reach in its ambition to bring benefit to the elderly and less able by reintroducing them to the joy of a cycle ride in their local community.
The Carnoustie project has been driven by Lorraine Young, chairwoman of Carnoustie Memories, and Carnoustie Befrienders chairwoman Jean Brown.
It is the first community-based CWA group in Angus.
Lorraine said: "CWA is a well-established national programme and our chapter is designed to reflect the national model. Our direct association with CWA offers us many positive benefits such as training for all our pilots, human resource services and insurance."
The project gathered pace following the announcement of the legacy fund set up in the wake of the 147th Open Championship over the world-famous Angus links, where Francesco Molinari entered the record books as the first Italian to secure the prized Claret Jug.
She added: "We believed Cycling Without Age would be of tremendous benefit to a significant number of people living in the local community and would be a very positive and highly visible reminder of the community benefits arising from the hosting of The Open Championship.
"CWA brought a trishaw to Carnoustie for us to trial and the passengers had a ball and smiled their way through the journey and spoke of the exhilarating experience of feeling 'the wind in their hair' and the wealth of memories this evoked."
She added: "Our sole objective is to transform the lives of older people in our community, re-engaging them with the outdoor environment through open-air trips on trishaws with local volunteer pilots.
"We require a pool of volunteers to cover a range of tasks from being a pilot, a co-pilot or a co-passenger and would welcome enquiries from members of the public interested in volunteering."
Contact can be made by emailing lyoung37@btinternet.com or jmbrown77@sky.com
In a fitting nod to the golfing legacy, the trishaws will be named after the town's three courses – Championship, Burnside and Buddon, alongside an outrider e-bike called the Nestie after the town's nine-holer.
Carnoustie councillor David Cheape, chairman of the Open 2018 R & A Legacy Panel said: "It's great to see the projects supported by the R & A following such a successful 2018 Open at Carnoustie coming to fruition.
"All the R & A funded projects are starting to take shape and we look forward to seeing all the results of the £100,000  funding package as each project comes to fruition."