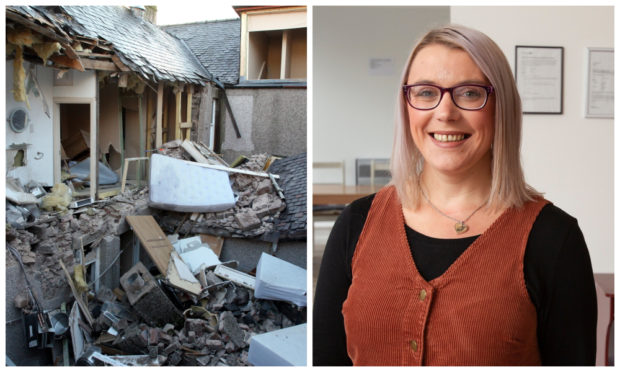 A former bar worker who survived a pub gas explosion has used the near-death experience to drive forward her new business.
Danielle Ormond, 37, was told she was lucky to be alive after being dug out from under three floors of rubble after the explosion at the Drumtochty Arms in the Mearns village of Auchenblae in 2009.
The then-26-year old barmaid broke her neck and back in three places, along with her cheek, jaw, breastbone and ribs. She suffered a punctured lung and lost most of her teeth.
Danielle, who still has to take daily medication to manage the injuries, credits the experience with giving her the strength to establish and expand her business Unicorn Cleaning Services.
The mum of three from Montrose said: "I am not sure I would have had the confidence, but once you have been through something like that, you feel you can take on anything.
"I'm still not fully recovered. I still take painkillers and my teeth are on a plate because they were so badly damaged after I was hit in the face by a breeze block.
"I was buried after three floors of the hotel came down on top of me. I didn't pass out so I remember all of it. There were two people in the pub and they started to dig me out.
"I managed to find a bit of concrete and start hitting a wooden door that was above me so they could figure out where I was."
It would be five years until Danielle felt strong enough to go back to work.
Two years ago, after spells at college and with textiles firm J&D Wilkie, she launched her own firm.
"Life is far too short to do something you don't want to do. I wanted to create something for my kids they will be able to inherit."
Danielle now has 17 staff, a laundry and dry cleaners in Montrose, and plans to expand in Dundee after Christmas.
She has been shortlisted for a Business Woman Scotland Award in the Rising Star Category, with the finals held in Glasgow in November.
She also had a baby girl in 2018 while still establishing her business' reputation.
"My husband and I had a cleaner and she never did it right. I was always chasing after her but talking to people I got the feeling that was just what was expected.  I thought I can do this better," she said.
"Within three weeks I had recruited three staff because I was so busy."
Danielle is determined to ensure the accident does not affect her work.
"I'll never be any better than I am now. It does affect me in what I have chosen to do. It is important to keep moving and to keep my weight down.
"Some days are better than others, but it was my choice and I absolutely love it."
The explosion at the Drumtochty Arms in Auchenblae left three people injured and the hotel had to be demolished.
Instant Catering Maintenance Ltd admitted breaching health and safety laws in 2014 and were fined £7,500 for the incident.