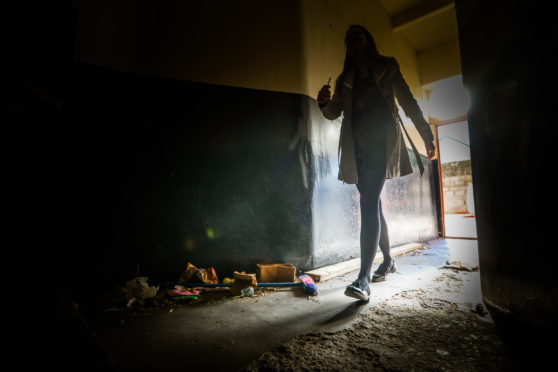 Call have been renewed for the Scottish government to introduce compulsory factoring charges for the upkeep of tenements following complaints about the state of buildings in Dundee.
Social housing provider Hillcrest Homes said it has often to pay for repairs of common closes, with private owners in the same blocks failing to contribute their share.
The Stobswell Forum has called for the government to go a step further and give the council powers to make compulsory purchase orders on "slum" properties owned by private landlords.
The issue of factoring charges was first brought up in May, following a successful trial scheme in Edinburgh.
Hillcrest, the Stobswell Forum and Police Scotland's community sergeant for Dundee's Maryfield area spoke out after detailing how they have been supporting residents living in squalid conditions in Dundonald Street and beyond.
Colin Clement, chairman of the Stobswell Forum, said: "The system limits what the council can do when it comes to private owners and landlords who don't maintain properties.
"The government should give the council powers to say enough is enough – perhaps compulsory purchase orders could be the answer.
"Some people are also not equipped to do some of the work that needs to be done, if they do want to do it.
"They need agreement from every homeowner in a close and there is a lot of work involved and a lot of bureaucracy if they'r applying for a grant for security doors, for example. The system doesn't make it easy."
Ben Gibson, housing officer at Hillcrest Homes, said: "The Scottish government should introduce legislation so that when you buy a flat you have to agree to pay a factoring fee.
"In some areas it's like that but not with older properties."
Some of the problems for private tenants in Stobswell tenements include run down closes with broken windows, dirty stairwells, unkempt gardens and a lack of security entry doors.
In Dundonald Street, residents have have reported "slum" conditions including people regularly taking drugs and defecating in the stairwells to which they are given access through broken or missing security doors.
Lesley Winter, community sergeant for Maryfield, said: "Some residents simply accept these conditions because they think 'this is my lot in life, I'm on benefits so I can't expect better.
"But we've been working with residents to help them challenge that and speak up."
A Scottish Government spokesman said a cross-party working group on tenement maintenance published a report in June, recommending all tenements should have mandatory owners' associations.
They added: "We will respond to the recommendations in due course.
"We are clear that homeowners and landlords need to fully accept their shared responsibilities for the maintenance of their property".