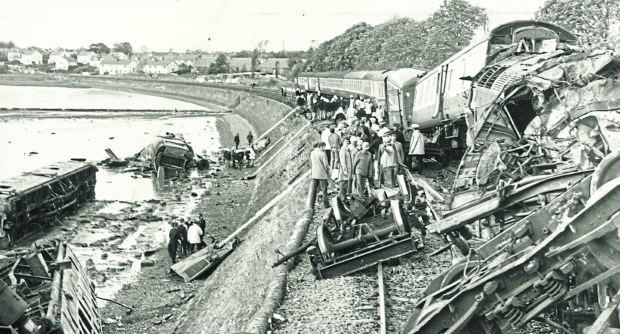 A horror Tayside rail tragedy which claimed the lives of five people and left 51 people injured is being remembered ahead of its 40th anniversary.
The Invergowrie Rail Disaster involved a massive rescue operation and had a profound and lasting effect on the local community.
Calamity struck on October 22 1979 when an Aberdeen-bound express from Glasgow slammed into the rear of a broken-down train just after 11am.
Such was the force of impact the engine burst into flames and threw four coaches from the sricken train – the 08:44 passenger service from Glasgow Queen Street to Dundeeover – over the sea wall.
The last two broke away completely and ended up in the River Tay.
Dr James Preston and Kazimierz Jedrezejzjk, who had been at the rear of the stationary train, were killed instantly as were the crew of the express train, driver Robert Duncan and his assistant William Hume.
A fifth casualty, Mrs May Morrison, died later in hospital from her injuries.
The death toll would have been higher still had the tide been in, since passengers in the two rear carriages would almost certainly have drowned.
Tayside rail enthusiast John Ruddy said modern signalling had made rail travel much safer but 1979 was a particularly bad year for British Rail's Scottish Region, with the collapse of a tunnel at Penmanshiel on the East Coast line in the Borders in March that year and an accident at Paisley in the April.
"The signalling at Longforgan was still basic," he said.
"The starting signal that Robert Duncan passed did not have the automatic warning system which gives the driver an audible warning of signals at danger.
"The signal post bracket itself had been bent and this contributed to it giving a misleading aspect to the driver. If this had been fixed then perhaps the accident would not have happened at all."
Police, firefighters and paramedics used ladders and ropes to reach the carriages and injured passengers.
The two carriages that had landed on the wet sand of Invergowrie Bay were beginning to sink and passengers were frantically trying to smash windows and doors so they could escape.
One of the first tasks for shocked medics was to amputate the leg of a 74-year-old woman.
Survivors were taken to Dundee Royal Infirmary.
Among the injured was Dundee United player Doug Wilkie who was paralysed from the waist down and had to give up football.
The line was reopened the next day and blame for the accident was eventually attributed to express train driver Robert Duncan after a Fatal Accident Inquiry ruled he had misread the faulty signal.
The locomotive on the first train is now preserved at the Caledonian Railway at Brechin, where it is currently awaiting restoration.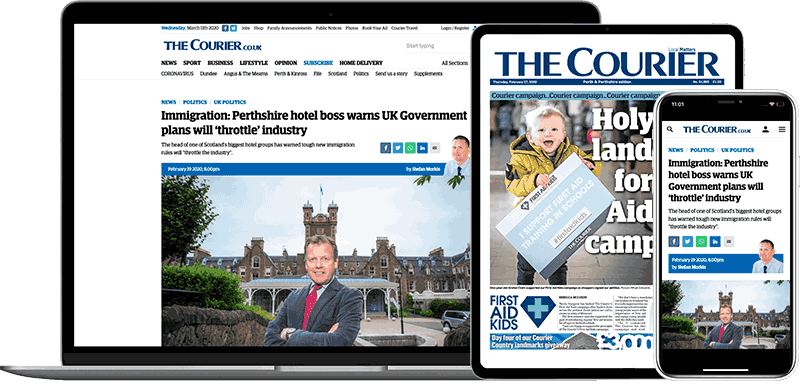 Help support quality local journalism … become a digital subscriber to The Courier
For as little as £5.99 a month you can access all of our content, including Premium articles.
Subscribe