IN PICTURES: Iconic Star Wars character R2-D2 unveiled ahead of V&A Dundee exhibition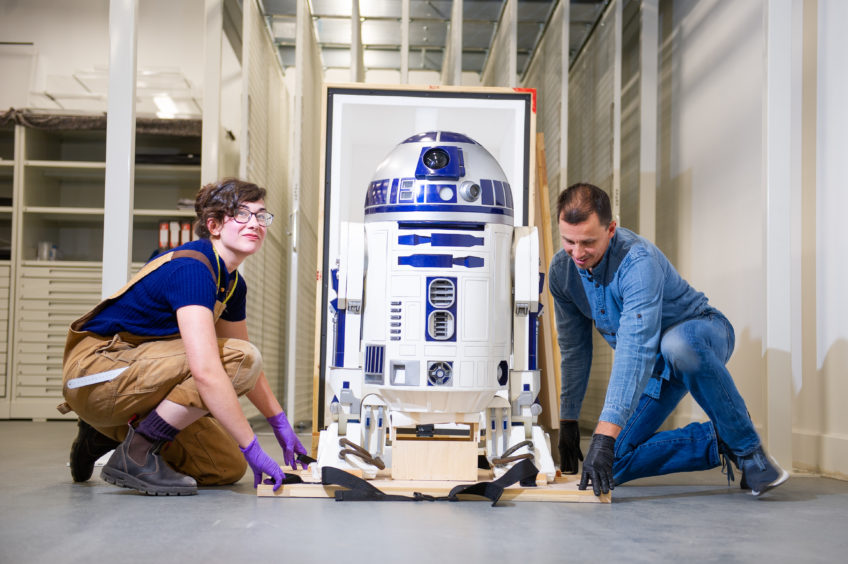 A special visitor from a galaxy far, far away has landed in Dundee.
A model prop of R2-D2 which featured in the first Star Wars film from 1977 is set to be one of the main attractions at the V&A's upcoming Hello, Robot exhibition.
The iconic character was unboxed yesterday for a sneak preview, before being carefully packed up again ahead of the exhibition's opening next month.
Known for his bleeps and bloops, R2-D2 is the only character — along with his sidekick C3PO — to appear in every film of the franchise's main saga.
It has been donated by series creator himself George Lucas, as it is on loan from the Lucas Museum of Narrative Art, in Los Angeles.
Painstaking care has been taken in order to ensure the prop does not get damaged during transport.
The robot is packed in a crate designed specifically for the 93cm high droid.
Patrick Luetzelschwab, from the German Vitra Museum, has travelled with R2-D2 to ensure the upmost care is taken with its handling.
Patrick and Jessie Staniland, from V&A Dundee, carefully opened the crate and took the droid out to be viewed.
R2-D2 is strapped to a base so that no one actually touches the model as it is moved around.
The droid was famously played by British actor Kenny Baker ? And in some scenes, R2-D2 was moved by remote control or computer animation.

Just look at him ? #HelloRobot pic.twitter.com/gjFb8cbzWT

— V&A Dundee (@VADundee) October 23, 2019
Hello, Robot debuted in the Vitra Design Museum and has also appeared in Vienna, Ghent and elsewhere.
It is the first V&A Dundee exhibition not from its London counterpart and Dundee will be the only place in the UK where Star Wars fans can get a view of R2-D2.
Museum curator Kirsty Hassard worked tirelessly to bring the show to Dundee.
She said: "As part of the Scottish Design Galleries there was a Queen Amidala costume (from Episode II — Attack of the Clones) and I got to courier that back from Skywalker Ranch which was a massive privilege to get to see their stores and to be able to tour around that as well.
"This is the only time it will come to the UK, which is really exciting.
"Since the moment people knew R2-D2 was going to be part of it, there's been a massive thrill of 'he's in the building but he's still in his crate' so to have him uncrated has been really exciting.
"A lot of people definitely seem to have quite a lot of affection for him as a character and that's been really lovely to see.
"I'm sure when he goes upstairs that will be even more exciting.
"We're expecting big visitor numbers."
Other Courier Country links to the sci-fi saga include Ewan McGregor, who portrayed a young Obi-Wan Kenobi in the prequel trilogy, and Ian McDiarmid , who starred as series antagonist Emperor Palpatine.
McDiarmid is among the cast of the upcoming Episode IX: The Rise of Skywalker.
His voice featured in the recent trailer for the upcoming film, hinting that his character will make a surprise return after his supposed demise in 1983's Return of the Jedi.
Other attractions featuring in the Hello, Robots exhibition — which explores the history of robotic design — include is a 1927 poster for influential sci-fi film Metropolis and the androids which starred in the music video for Bjork's song All Is Full Of Love.
Hello, Robot opens at the V&A on November 2 and runs until February 9 next year.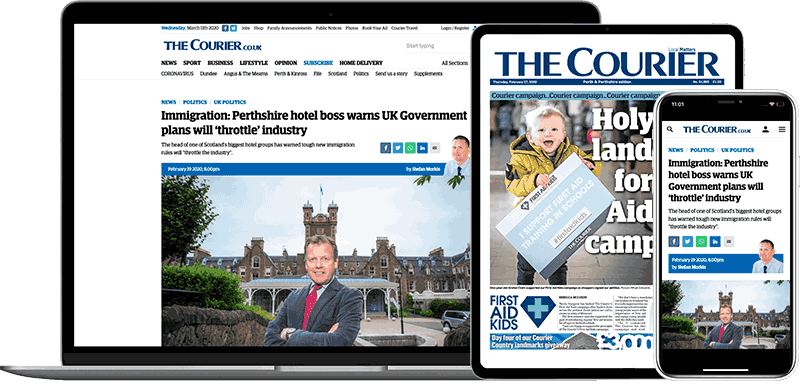 Help support quality local journalism … become a digital subscriber to The Courier
For as little as £5.99 a month you can access all of our content, including Premium articles.
Subscribe