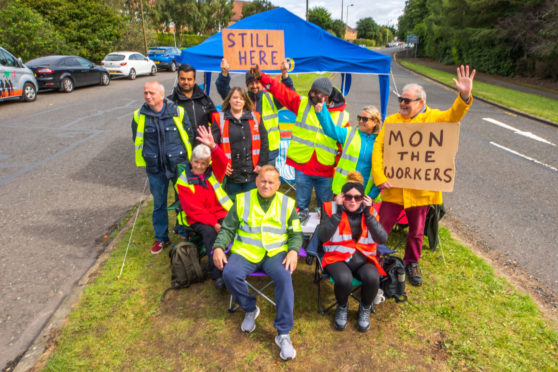 Work to resolve a two-month-long pay dispute involving pharmacy support workers at NHS Tayside has suffered another setback, union figures say.
The dispute, which revolves around claims some staff are on a lower pay grade than they should be, is set to rumble on for at least another week after two separate panels failed to agree on the outcome.
The workers, who have been on strike since August 19, had hoped for a resolution following the panel meetings on October 24 and 29.
The panels consist of members of the Scottish Terms and Conditions Committee (STAC), a partnership organisation which collectively negotiates terms and conditions issues for NHS Scotland staff.
Each decision by the organisation is checked by a second panel before a final decision is made but now they must reconvene before the outcome is clear.
The disagreement relates to a "flawed job evaluation process", according to Unite the Union, meaning some workers are on a "lower grade than they should be".
Susan Robertson, Unite regional industrial officer, has called for a speedy resolution for the sake of workers.
He said:  "Just when the workers thought that they were coming to the end of their strike action, which has been ongoing now since 19 August, once again, they are left feeling angry and extremely frustrated by a system that seems intent on denying them what they deserve.
"We are now left waiting for a date for the panels to reconvene.
"Unite would urge all parties to ensure this happens as a matter of urgency in the interests of the pharmacy support workers but also patients and their families."
A spokesperson for NHS Tayside said: "NHS Tayside and Unite have been notified that the Scottish Terms and Conditions Committee (STAC) is continuing to consider the evidence shared by both organisations and we await STAC's final decision.
"We have not been advised of the outcome from the first stage of the evaluation process held last week and we believe that there will be no grading outcome communicated to NHS Tayside or Unite until the full process led by STAC is complete.
"STAC is the most senior independent body responsible for terms and conditions in NHS Scotland and the process involving STAC was agreed by NHS Tayside and Unite.
"NHS Tayside remains committed to resolving this issue in good faith via a transparent and independent process which will ensure our staff can return to normal working."
---

---