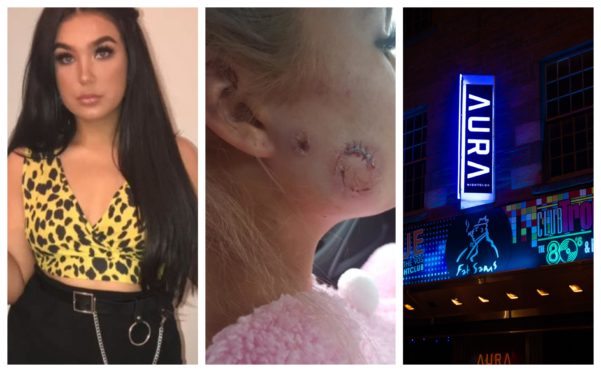 A sheriff has slammed social workers for claiming they were too busy to finish preparing pre-sentencing reports for a teenage girl facing possible jail for biting a fellow schoolgirl.
Danielle Gaffar, 19, sank her teeth into the face of her former friend after a "disagreement" with the other girl, who was going out with her ex.
The assault on Kyra Strachan took place at the Aura nightclub in Dundee.
Both accused and victim were schoolgirls at the time.
Gaffar, who pled guilty four weeks ago to the attack, should have been sentenced at Dundee Sheriff Court yesterday.
But Sheriff Tom Hughes said he had received an "very curt" email saying that although the social worker dealing with the case had met Gaffar, they could not have their report ready in time for the court "because of their workload".
Sheriff Hughes said: "I think that is very inappropriate, and I'll tell you why.
"This is an extremely serious matter, involving an accused who is 19, facing very serious consequences, a complainer who has an interest, and a very wide public interest.
"It appears to be the case that very little priority has been given to this by Angus social work department."
The sheriff said his recent experience was this was "a common occurrence" with Angus social work department.
The court heard that the problem had begun with "a gremlin" that had caused a letter to go to a wrong address.
The court heard at an earlier hearing that Gaffar and Miss Strachan, who were both 18 and at school at the time, were formerly close friends but there had been a "disagreement" between them and there remained some animosity.
Prosecutor Kirsten Letford said: "At, the time of the offence the complainer was in a relationship with a man who was formerly the partner of the accused."
Mrs Letford told the court that On February 3 this year, Miss Strachan had been on the dance floor of the club when she was attacked from behind, pulled to the ground, and her head was banged off the floor several times.
A friend of Miss Strachan's tried to intervene, but Gaffar put her arm around Miss Strachan's throat so she was struggling to breathe.
Mrs Letford said: "The accused then bit her on the right cheek."
Staff spotted the fracas, Gaffar was ejected, and police were called.
Once officers realised the extent of Miss Strachan's injuries, staff called an ambulance and she was taken to the city's Ninewells Hospital where eight stitches were inserted in her cheek to repair the bite mark.
Mrs Letford described the mark as "a significant wound" that doctors said would leave permanent scarring.
Gaffar, of Tealing, pled guilty to assaulting Miss Strachan to her severe injury and permanent disfigurement.
Sheriff Hughes further deferred sentence until November 21st and continued bail.
An Angus Council spokesperson said: "Angus Council is committed to delivering services to the court, however there are occasions when timescales cannot be met."