VIDEO: 'We were heartbroken but now the team is back': Ex-Thomas Cook staff in Dundee return as Hays Travel takes over
Former Thomas Cook staff across Dundee have had their jobs saved after a takeover by Hays Travel.
Employees were left worried after the collapse of the travel giant's in September.
But Hays Travel announced the plans to purchase all 555 retail stores in the UK last month, providing re-employment opportunities for thousands of people.
Around 20 jobs have been saved across Dundee as Broughty Ferry and Dundee branches open their doors for customers.
The Broughty Ferry store on Brook Street was the first to open in the area, with three employees welcoming customers on October 21.
The Dundee store at City Square retained the jobs of all 16 staff members and the store opened on November 3. An official launch day will be held on Saturday for customers to celebrate with staff.
Staff at the stores said they have been "blown away" by the generosity of Hays owners John and Irene.
The video above this story has interviews with former Thomas Cook employees Cathryn Bissell and Nicola-Ann Boyack, who now have jobs at Hays.
Kathryn said she was "absolutely devastated" when Thomas Cook collapsed. "Never in a million years did we think the company would go into insolvency. We were absolutely heartbroken."
Of the Hays takeover, she added: "We are very excited. It's a fresh start and new beginning for us all. We are all part of the same team again, which is lovely.
"Our jobs have been saved and we are back as a team."
"The customers have been absolutely amazing. They were more concerned about the staff than their own holidays, which was lovely."
Nicola-Ann said: "We are really thankful. The support from customers welcoming us back on the high street has been absolutely fantastic.
John Stewart, Dundee branch manager, said: "The Thomas Cook collapse left staff in a dreadful situation.
"One of the couples in this store had just become parents to Freddie, who was just six-weeks-old when we found out about Thomas Cook, so they were left worrying about where the next nappy would come from.
"So we're blown away that Hays has saved all of our jobs. They have been incredible to us and supported us every step of the way."
The former employees were left shocked by the Thomas Cook closure and were forced to seek legal advice for Unite last month.
The Hays Travel takeover has meant staff are able to offer more opportunities to customers, with a wider selection of holidays available.
Broughty Ferry manager Vicky Wilson said the public response to the opening had been "overwhelming".
She said: "The response from our customers has been fantastic. We have had a great welcome back.
"Many of these people have lost their holidays with Thomas Cook but they've stood by us, so it's just overwhelming to see how they've supported us through the difficult time.
"It means the world to us to have our jobs back. John and Irene Hays have saved a lot of people's livelihoods by taking over the stores and we're really grateful for what they've done."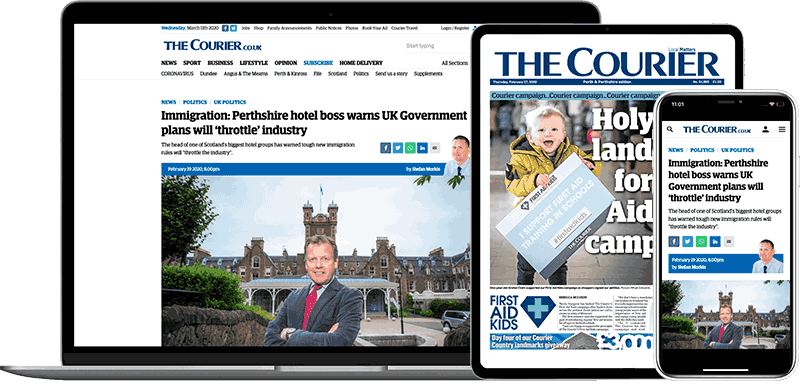 Help support quality local journalism … become a digital subscriber to The Courier
For as little as £5.99 a month you can access all of our content, including Premium articles.
Subscribe