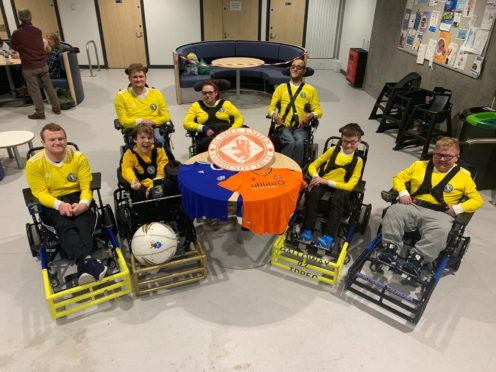 New players are being invited to give powerchair football a try after the launch of beginners' classes at a Dundee primary school.
The Tayside Dynamos Powerchair Football Club, which trains in the city and in Forfar, has launched the classes after receiving a £7,000 grant from the National Lottery, distributed by agency sportscotland.
The sport provides opportunities for people with a high level of impairment to access the game.
The weekly sessions, held on Saturdays, are being run in partnership with Dundee United Para-Football Club, under the name Dundee United Dynamos, and hosted at Fintry Primary School.
Arbroath twins Kein and Kelsey Speed, who are both involved with the club, have welcomed the move.
Kein said the sport "means the world" to him.
"I don't know what I would do without it. I love that I get to play the sport that I love at competitive level," he said.
"It is fast-paced and this makes it more exciting. It has helped increase my confidence, I'm much more active and have met new friends which means a lot. I would encourage others to get involved in some way."
Kelsey said: "I used to watch my brother play and decided one day to join in. I realised that you don't need to be a football fan to enjoy playing powerchair football. Its good fun using your chair to control the ball. I enjoy saving goals and scoring especially against my brother"
Founded in 2013, the Dynamos quickly became one of Scotland's most successful powerchair football teams, establishing bases at Forfar Community Campus and Forfar and Fintry Primary Schools.
They were the first Scottish side to play in a European competition when they participated in their first international tournament, the Geneva Cup, earlier this year.
Mum Lois Speed, also an Independent councillor in Arbroath, said the sport "has brought individuals and families together and has given the players an opportunity to overcome many challenges".
"It has been an incredible journey from witnessing my children and others learn to drive a wheelchair –  which is a hard task in itself – to seeing them perform remarkable skills on the pitch with a ball," she said.
Ryan Galloway, club secretary and founder, said new starts could initially be "overwhelmed" after being asked to join in with experienced players.
"We wanted to take away some of the pressure and create a separate environment for beginners where we can work to build players' confidence and let them try the sport and have fun," he added.