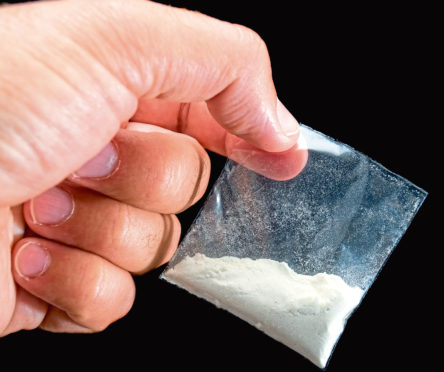 During a stroll in Dundee city centre I witnessed a drug deal taking place.
It happened after a group of four men and women who looked in less than rude health caught my eye.
They were huddled together outside the front of Boots on the High Street, just yards from the Overgate.
I watched as a small, clear plastic bag containing a white powder was produced from a pocket and passed to a second member of the group.
A handful of coins were passed in the opposite direction.
As a transaction, it was completed in a matter of seconds.
There was no attempt to hide what was going on. For those involved it was as routine as grabbing a coffee.
And, I'm sad to say, it was a routine enough scene for me that I barely batted an eye.
I did not think about intervening.
And I certainly did not contemplate reporting the incident to the police or alerting other authorities who may have been in a position to provide support to those involved.
Why?
Perhaps it is because I have unwittingly accepted that another world exists to the one I am lucky enough to occupy – and I've subconsciously made my peace with that.
That is a dangerous path.
Drugs are killing people in Dundee at an alarming rate – more than one a week in 2018.
Yet, many of us choose to turn a blind eye to the problems that exist in what is a murkier world than our own.
I am as guilty of this as anyone, but when I take a step back and really think about the problems facing our society today then the last thing I wish to see is a brick wall put up between the haves and the have nots.
I want to be part of a caring and compassionate society, not a condemning and callous one.
Those at the end of the drugs supply chain – as I suspect the group I observed in the city centre are – deserve more than to be pitied, avoided and ignored.
They deserve help and they deserve hope – even if there are some who ultimately cannot or will not reach out to grasp it.
The Dundee Drugs Commission reported in September on how we collectively as a society must respond to the problem.
Their view was the current system of support was "fractured" and they effectively called for a line in the sand to be drawn to allow a new future to be mapped out to tackle the myriad issues which often go hand in hand with drug use – poverty, mental ill health, isolation, broken relationships and crime to name but a few.
That work is vital if we are ever to reach a position where drugs are again to be viewed as an exception rather than dismissed as a norm.
It has my wholehearted support.
Standing above that has to be a robust judicial system that stamps down hard on the purveyors of misery.
Those who profit from drug dependence are the people society should ostracise, not their victims.
Get in touch with your local office at Dundee or send a letter to The Courier at letters@thecourier.co.uk