A publican, more used to hearing customers complain about the price of a pint being murder, will become one of the first students to graduate from a crime writing course at Dundee University.
Zoe Cooper will receive her MLitt crime writing and forensic investigation degree at the university's winter graduation ceremony on Thursday.
The Masters course is the first of its kind in the UK and sees academics from the school of humanities and centre for anatomy and human identification guide students through key aspects of crime, science and the law.
The course was created in response to the surge in popularity of crime fiction in recent years, with the genre gaining increased critical attention and study by academics.
Zoe, from Arbroath, works as assistant manager at Dundee's Trades House Bar and is a long-time fan of crime writing.
She said: "I am absolutely delighted to graduate and the whole experience has been really positive.
"I always loved crime writing and became interested in forensic science when I started to write myself. About six different people sent me the link to this course when it was first launched because they knew I would be interested.
"Aside from helping me as a writer, the best thing about the course were the classes we got to take in forensic science. I learned so much from them and it has made an enormous difference to my writing."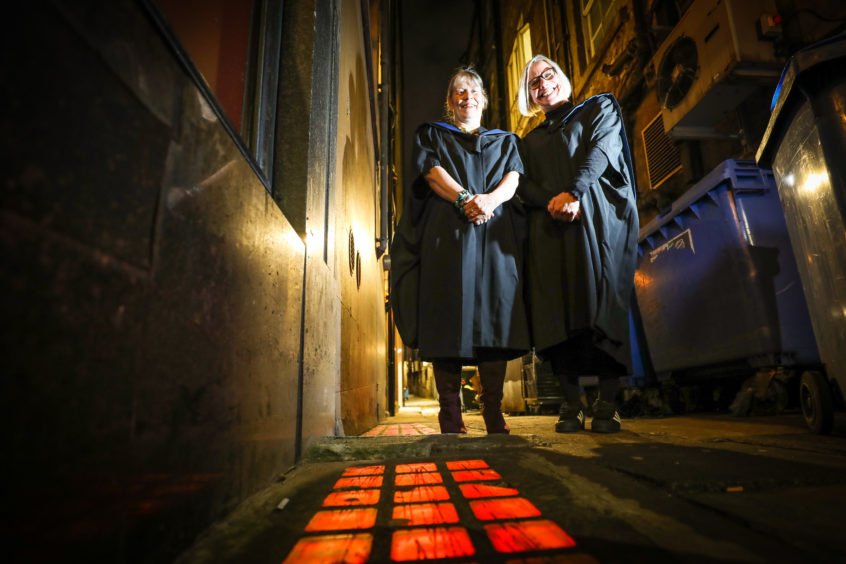 Classmate Gillian Duff is also hoping that the course will help her realise her creative ambitions. The former teacher now runs a garden furniture shop in her hometown of Forfar and has set her debut novel in a fictionalised version of Angus.
Today's Graduation ceremony will see Gillian receive the inaugural Val McDermid Award for producing the best dissertation on the course.
She said: "I think every teacher believes they have a novel in them and I was no different. Crime was what I liked to read so that was what I wanted to write as well.
"To be a good crime writer you need to know so much about forensic science and I always said that if I won the lottery I would do two courses – one on the forensic side and one in creative writing.
"So when I saw there was a course that combined the two I had to go for it."
The university's graduation ceremonies take place in the Caird Hall over two days and will see hundreds of students receive degrees, diplomas and doctorates.
Following the departure of principal Andrew Atherton last week, three different vice-principals will deliver speeches welcoming graduands and their guests across the three ceremonies.