Michael Alexander looks back at how 25 years of the National Lottery has benefited good causes in Tayside and Fife.
Twenty five years ago, lottery fever gripped the UK as people bought 49 million tickets, crossed their fingers and tuned in to watch the first National Lottery draw live on BBC One hosted by Noel Edmonds.
After much hype, there was mild disappointment when the first numbers drawn – 30, 3, 5, 44, 14 and 22, with the bonus 10 – failed to create a millionaire. Instead, seven jackpot winners shared a prize of £5,874,778, winning just under a paltry £840,000 each.
However, 5500 millionaires have followed, and since that first draw on November 19, 1994, more than £40 billion has been raised for 'good causes' UK-wide including £3 billion in Scotland and £302 million invested in over 7,500 local good causes in 'Courier Country' across the community, arts, sport and heritage sectors.
Dundee has received £32 million in grants during that time with one of the largest investments being over £19 million for the V&A Dundee that has transformed the city's waterfront.
Other notable projects in the area to have received funding include Baxter Park, the RRS Discovery, The McManus Gallery, Olympia, Dundee Science Centre, Dundee Rep, the DCA, Falkland House, the Fife Coastal Path, Stanley Mills, Perth Theatre, as well as the repair and regeneration of historic town centres including Anstruther, Kirkcaldy, Coupar Angus, Arbroath and Brechin.
One of the first grants ever awarded, however, was to the Verdant Works Museum in Dundee in 1995.
Gill Poulter, heritage and exhibitions director at Dundee Heritage Trust, said that without that initial £471,000 grant, it would have been a "real difficult slog" to get the couple of million pounds needed to get the former derelict jute mill open as a museum to the public in 1996.
While a "cocktail" of funding came from other sources including the European Union Regional Development Fund, Scottish Enterprise Tayside, the council, trusts, foundations and corporate support, the lottery "opened the door" to other funders.
"I think the amount of money the Lottery has given over the years – particularly to our museums and heritage sector – is unprecedented," said Gill, pointing out that Dundee Heritage Trust had received 13 lottery grants for 11 projects over those 25 years, totalling £3.8 million.
"They really have changed the landscape of the museum and heritage sector in the UK in terms of enabling museums up and down the length and breadth of the country to do amazing projects, open up new facilities, and improve access."
Some of the grants have been for relatively small amounts. They have helped the trust buy some really amazing objects connected with the history of Discovery and to pay for vital conservation work on the ship.
But Verdant Works has undoubtedly had the lion's share of money over the years, Gill said, with their most recent £2 million lottery grant being for the £3 million High Mill project which opened in 2015.
"I can say absolutely hand on heart that we would not be here without the lottery," she added.
The National Lottery has also helped community-focused projects thrive including Dundee United Community Trust, DFC in the Community Trust, Nae Limits 60+ Association and Spina Bifida Hydrocephalus Scotland. Grassroots sport has also flourished including Kingdom Off Road Motorcycle Club, and helping sporting stars to compete at the highest level including Tayside's Laura Muir and Eilish McColgan.
Kevin Rattray, club co-ordinator with Dundee Dragons Wheelchair Sports Club, said that since the club was formed in February 2013, the lottery had been "absolutely vital" to its survival.
In 2014/15 a £10,000 grant facilitated the purchase of sports wheelchairs. These ranged from £800 for a very basic model right up to around £8500 for a specialised chair like the one used by one of the club members in the GB wheelchair rugby squad. It also helped the club purchase a trailer and a storage container for the chairs.
A second grant of £8000 has helped the club replace chairs or parts when they "get a bit beat up" and has also helped support coaching education.
"We work very hard to fundraise," said Kevin.
"But the National Lottery has been absolutely vital in terms of supporting us but also allowing us to develop and grow and helping the young people in terms of building confidence and all the things that sometimes you don't appreciate sport can do – reducing isolation, promoting inclusion."
As Scotland director for the National Lottery Heritage Fund, Caroline Clark and her team assess and give application support to all of the projects that want lottery funding towards heritage.
They include "amazing iconic projects" like V&A Dundee, Riverside Museums in Glasgow and National Museum of Scotland in Edinburgh.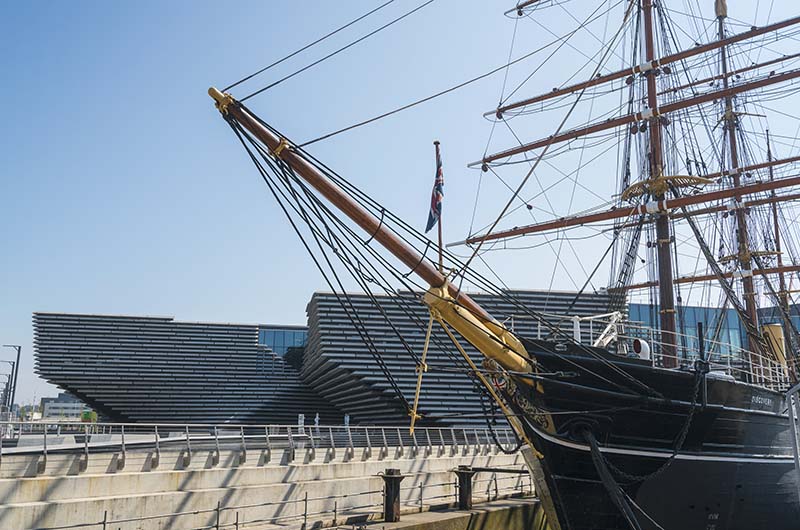 But she's also found it really rewarding to work with many small town regeneration projects including Brechin, Anstruther and Coupar Angus to help restore buildings in the centres of their towns and get "vibrancy" back into communities.
"People buy a lottery ticket thinking about being a millionaire but actually you are going to feel far more benefit from the good causes money," she said.
"If you bought a Lottery ticket you might not connect it with improvements to your parks and high streets, but that's actually what you are often buying with your ticket. That's where you'll feel the real benefit."
FACTBOX
In Dundee, money raised by National Lottery players has enabled some fantastic achievements for the city's heritage, including: 
·         The construction of Scotland's first design museum and the first V&A museum in the world outside London  
·         The McManus Galleries has been fully modernised and with a landscaped, pedestrianised entrance 
·         The story of the city's internationally significant jute industry is told at the restored Verdant Works 
·         Paths and steps up The Law have been overhauled so that people can enjoy its panoramic views while learning about its natural heritage 
Since 1994, across Scotland, The National Lottery Heritage Fund has invested: 
·         £197 million in landscape and nature, including more than £57 million in public parks and cemeteries.    
·         Over £70m in places of worship 
·         £278m to more than 430 museum and gallery projects